Wind and snow buffet a 19-seat plane as it swoops over the arctic tundra in northern Quebec. Gabrielle Foss marvels at the pilot's skill — he's landing on an invisible runway. Following months of preparation, the first-year Western Faculty of Health Sciences student is finally arriving at the Kangiqsujuaq airport. Despite 90 km / hr winds and freezing temperatures, Foss and her three companions are greeted with warmth.
"Madeline and Marion [Yaaka] were there waiting for us, and they knew everyone there in the airport," Foss said. "We all started to get along really quickly."
Madeline and Marion Yaaka live in Kangiqsujuaq, a tiny village on the upper tip of Quebec. While the close-to-700-person settlement offers stunning views of Wakeham Bay, Foss' mid-February trip is no Reading Week vacation. She's with her father, fellow first-year Western student Patrick Hickey and McGill freshman Eva Wu, and they have a project: they want to improve youth's mental health using photography, particularly by working with young people in Inuit communities.
"We called it Northern Lights because mental illnesses, like depression, can often be referred to as darkness," Foss said. "The northern lights are something so beautiful that light up the sky, so we wanted the mental health and photography workshops to ... sort of light up any darkness that might be existing."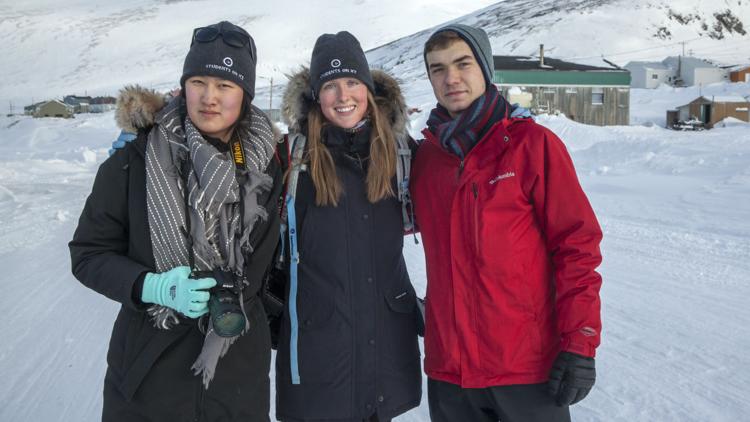 The project started under the umbrella of Art With Heart, a social wellness organization Foss and Wu created in high school after they both participated in Students On Ice — a foundation that conducts educational expeditions to the Antarctic and the Arctic. When Foss connected with 15-year-old Madeline on her Arctic expedition the summer before university, AWH decided to set its sites on Kangiqsujuaq. For over six months, Foss and the others organized the project with Madeline's mother, Marion, before finally meeting in the airport last Feb. 13.
"You really have to be working very closely with people in the community because you can't just go up to a community as a person from the south and expect that everyone will fall into place," Foss said. "There's a lot that has to be done on the other end."
It was a partnership that proved vital. The groups collaborated to raise over $18,000 for Ross, her dad, Hickey and Wu to fund Northern Lights' workshops and its donation of several DSLR cameras to the community. In addition to provincial grants, Western pitched in with the Health Sciences Students' Council and Social Sciences Students' Council both donating money.
After all, it took a bus ride, train travel and two flights to reach the village. Arriving just before a blizzard, AWH got to work the next day, interacting with a small group of 12- to 18-year-olds from the village's solitary school.
"We would teach the basic concept of mental health and then the basic concepts of photography," Foss said, describing one of the initial workshops. "Then we would use what we learned in the photography activities to create campaigns to decrease stigma in the community."
Photos taken by Kangiqsujuaq youths
Suicide and self-inflicted injuries are the leading causes of death for First Nations youth and adults up to 44 years of age. Further, suicide rates for Inuit youth are among the highest in the world, at 11 times the national average. Foss said when Hickey asked the kids if they knew someone with a mental illness, everyone in the room put up their hands.
"The last question he asked was 'Do you have mental health?' and none of the students put their hands up," Foss said. "We used that as a conversation starter.... There's a stat that says one in five have a mental illness but five in five have mental health, and I don't think a lot of people realize that."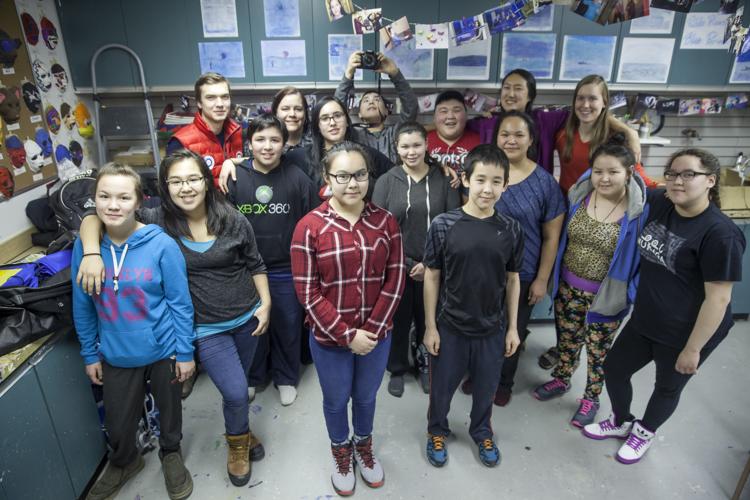 Still, amidst some language barriers — the children spoke Inuktitut, French and some English — the community welcomed the group. Towards the end of the week-long project, a local showed the university students how to make a traditional Inuit frybread called bannock. Madeline and her brother were also often with Foss, Hickey and Wu, where they were staying in the school's teachers' dorms. 
"Our goodbyes at the end of the trip were very long hugs, we all grew very close over the course of the week," Foss said. "A lot of the time when people come up from the south, they're there for a week and nothing happens afterwards. We want to ... ensure that that doesn't happen."
Foss said Wu is working on turning the workshops' photographs of the students holding up anti-stigma messages about mental health into posters to be distributed in communities across northern Quebec. 
"We really believe that if you can go through life looking through the eyes of a photographer, then you tend to pick out the beauty in everyday life versus looking at the negative side," Foss said. "For anyone, whether you're struggling with a mental illness or not, you can learn skills to be able to see the positivity and brightness in life."
In the future, AWH is hoping to conduct a similar project in Newfoundland and Labrador's Inuit region of Nunatsiavut in a community called Nain.