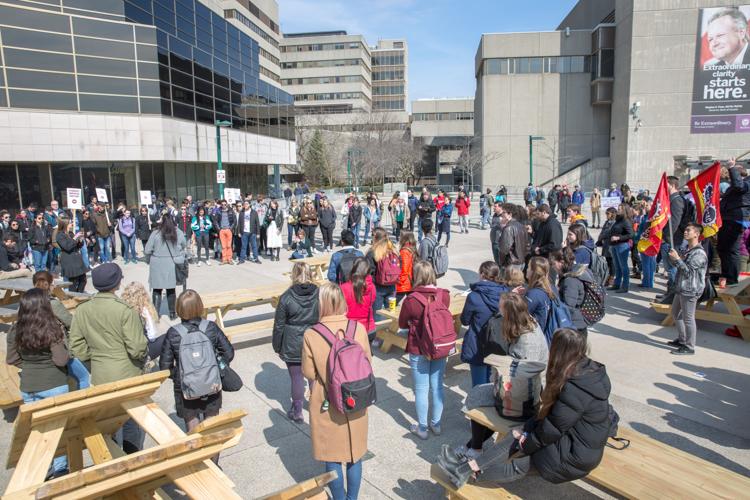 Scores of Western students participated in a province-wide walkout in response to the Ontario government's funding cuts affecting post-secondary education.
A 10 per cent tuition reduction announced earlier this year for the 2019-2020 academic year will cost universities an estimated $360 million. Western University is expecting a loss of $35 million for the upcoming year, and $43 million for the year after. 
The tuition cut was quickly followed by changes to the Ontario Student Assistance Plan funding structure, which will eliminate the free tuition program for low-income students and the six-month, interest-free grace period on OSAP loans. 
The walkout, which began at 12 p.m. and featured over 100 protesters, was organized by the Canadian Federation of Students and took place on 17 post-secondary campuses across Ontario. 
The Society of Graduate Students led the effort at Western along with the London Student Coalition. 
Western students congregated on Concrete Beach and kicked off the walkout with chants and speeches from several speakers.
"We're all here today for our own reasons. Some of us are here today because we have a younger sibling who doesn't know if they're going to be able to go to university next year," said Mary Blake, president of SOGS. "Some of us are here today because we've heard about the cuts our faculties will be making."
"But what's important here today is that we are all saying we are not having it," Blake continued.
David Blocker, a PhD candidate from the Department of History at Western and one of the speakers at the demonstration, attacked Premier Doug Ford's governing as one for corporate interests, and not "for the people."
"Doug Ford was elected to govern for the people. Instead, the [Progressive] Conservatives have governed for Doug Ford. The Ford government's changes to post-secondary education are severe and damaging-" said Blocker. "Instead of governing for the people, the Ford government is carelessly and vindictively attacking perceived enemies."
"The strategy couldn't be clearer than in the Conservatives vicious and hyper partisan attack on student unions and student organizations. Make no mistake: the policy of optional studies fees is designed solely to cripple student unions," he added.
The walkout proceeded with a protest across campus, reaching the University Drive bridge where it temporarily blocked traffic.