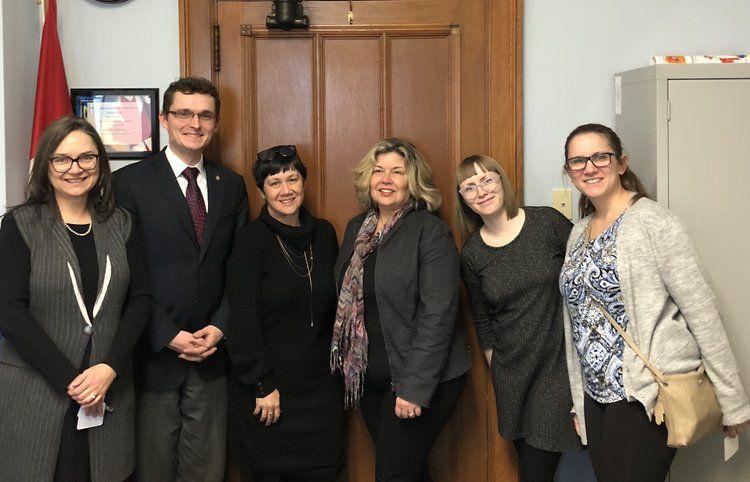 A team of Western University researchers in partnership with Adopt4Life: Ontario's Adoptive Parents Association is advocating for a new class of employment insurance benefits for adoptive parents, and customary and kin caregivers.
Last week, several representatives of the team visited Parliament Hill in Ottawa to meet with a number of Members of Parliament and policy advisors to argue for the addition of a 15-week "attachment leave" for adoptive parents. The purpose of the leave is to provide children with more time to attach to new parents or caregivers and address the unique needs of adoptive families.
Under the current employment benefits system, biological mothers are entitled to a maximum 15-week maternity leave, and parents who are caring for a newborn or a newly adopted child receive a 35-week parental leave. During the leave, employees receive 55 per cent of weekly insurance earnings. Overall, biological parents receive nearly four months leave more than adoptive parents.
"We understand that the maternity benefit is there for … people who experience pregnancy and childbirth," explained Leona Bruijns, doctoral candidate in sociology and member of the team working on the project. "It's a special need, so we're not saying we want to get maternity leave … we want an equal leave called 'attachment leave,' which recognizes that adoptive parents don't go through pregnancy and childbirth, but they go through other things that biological parents don't experience."
The team highlights several unique obstacles of building a family through adoption, such as establishing new routines, new relationships and new attachments between children and caregivers that ensure the long-term stability and well-being of the children.
Lorraine Davies, associate vice-provost (graduate and postdoctoral studies), led a study that surveyed nearly 1,000 adoptive parents, kin and customary caregivers across Canada to collect information on people's adoptive needs and responses towards an "attachment leave."
Survey results showed 72 per cent of respondents felt the current employment insurance benefits of 35 weeks did not provide sufficient time for children to adjust to their new families. Further, 94 per cent indicated adopted children and their families would benefit from a 15-week attachment leave.
In addition, 84 per cent of respondents reported children experiencing two or more complex challenges, such as navigating an openness agreement with birth parents, mental health concerns, physical disabilities and significant sadness during transition. Forty per cent of respondents reported five or more of these challenges.
The results also indicated 21 per cent believed the current system prevented them from adopting a child with complex or special needs, while 16 per cent said it prevented them from adopting a sibling group.
"It's not completely generalizable, but it gives us a good picture of what's happening," said Bruijns of the survey. "Having this additional attachment leave could help them address some of those challenges or at least have more time to get their bearings in an adoptive situation."
Bruijns, along with two other Western members, attended nine in-person meetings with MPs last week and continue to have teleconferences throughout this week. Bruijns explained the feedback from the MPs was overwhelmingly positive.
"They really appreciated the child-centred approach," she said. "We were really pleasantly surprised by that. There seems to be the sense that this will happen as long as we … keep going."
The research team will put together a report that summarizes the findings of this survey as well as the ethical and economic arguments for adoption benefits. They plan on releasing the report in February with the Conference Board of Canada. Further efforts are being made to get their project into the upcoming budget cycle.
Further information about this project can be found here.