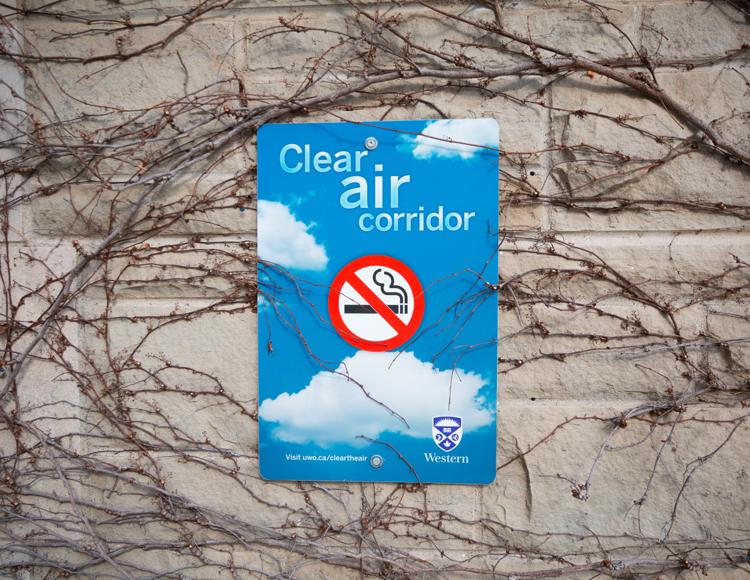 Western will be totally smoke-free after eliminating its six designated smoking areas by July 1, the administration announced Tuesday.
Smokers were told to stay 10 feet from buildings in Jan. 2018, and smoking was relegated to six areas throughout campus that summer — the first two of three steps in Western University's plan to go smoke-free.
"Western is working to create a healthier, cleaner environment for those who study, live, work and visit our university," said Western University.
The smoking areas are currently by Saugeen-Maitland Hall, behind D.B. Weldon Library, Middlesex College, Delaware Hall and Sunset Ave. Western's current smoking policy says "continued violation of this policy will lead to disciplinary action." E-cigarettes are included in the policy.
There are some exceptions, like traditional cultural or spiritual practices by Indigenous groups.
In 2015, Western began consultations with student leaders and health experts, culminating in a survey of 2016. 76 per cent, or 1,385 people, agreed or strongly agreed that moving to a smoke-free campus would be a positive transition. 13 per cent identified as light or regular smokers.
According to a 2018 report by the Canadian Cancer Society, there are 65 universities or colleges in Canada that prohibit smoking on their campus. For Ontario, McMaster University, George Brown College and Redeemer University College join Western in the report.