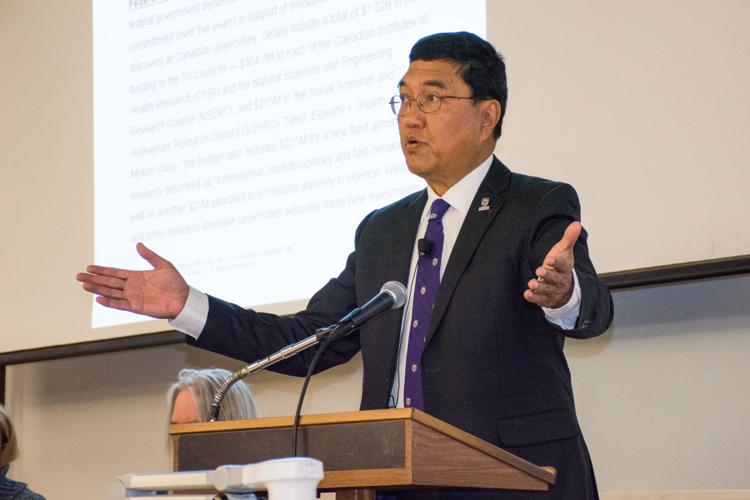 Western University students will officially be able to take pass/fail credits in the fall.
Passed at today's Senate meeting, Western will introduce "discovery credits" effective Sept. 1, 2018.
The credits will allow undergraduate students to designate a course as a discovery credit, meaning students will receive a pass/fail grade instead of a course mark on their transcript. Students can take up to 1.0 discovery credit courses that will count toward the overall credits required for their degree program.
Western implemented the discovery credits to allow students to pursue academic exploration. The credits do not impact a student's cumulative grade point average, impact student award eligibility and can be used to fulfill breadth requirements, but not essay requirements.
The University Students' Council and Western Student Senators have long advocated for pass/fail credits. Courtney Hardy, chair of the WSS, said the credits allows students to take courses for pure interest while still being competitive candidates for graduate and professional schools.
"It's really appealing for students that want more out of their university experience than just graduating with a degree and for students who want to get a more holistic education," Hardy said.
The university administration said students played an important role in creating the new policy.
"Students for some years now have been really important advocates for this," said John Doerksen, vice-provost of academic programs. "I was very delighted to see that this is an area where the academic leaders in the university and students had complete alignment in the types of opportunities we wish for our students."
However, the new policy advises students to carefully consider the impact of discovery credits.
Students will not be able to use pass/fail credits to apply to Ivey's HBA program, and the policy does not extend to first-year students and students in the following programs: engineering, nursing, bachelor of music, bachelor of musical arts, law, bachelor of education, business, and medicine and dentistry.
Discovery credits also cannot count toward the mandatory courses needed for an honours specialization, specialization, major, minor modules or certificates and diplomas.
Further, organizations outside of Western may choose to only use graded courses to evaluate students for graduate programs or professional schools.
Regardless, Doerksen said the discovery credits offer a new opportunity for many students.
"This is an awesome time to explore things, but at the same time, students are rightfully concerned about their grades because they want to go on to graduate school or whatever their next step is," he said. "This is now an opportunity to do that without the risk around grades."
More to come.