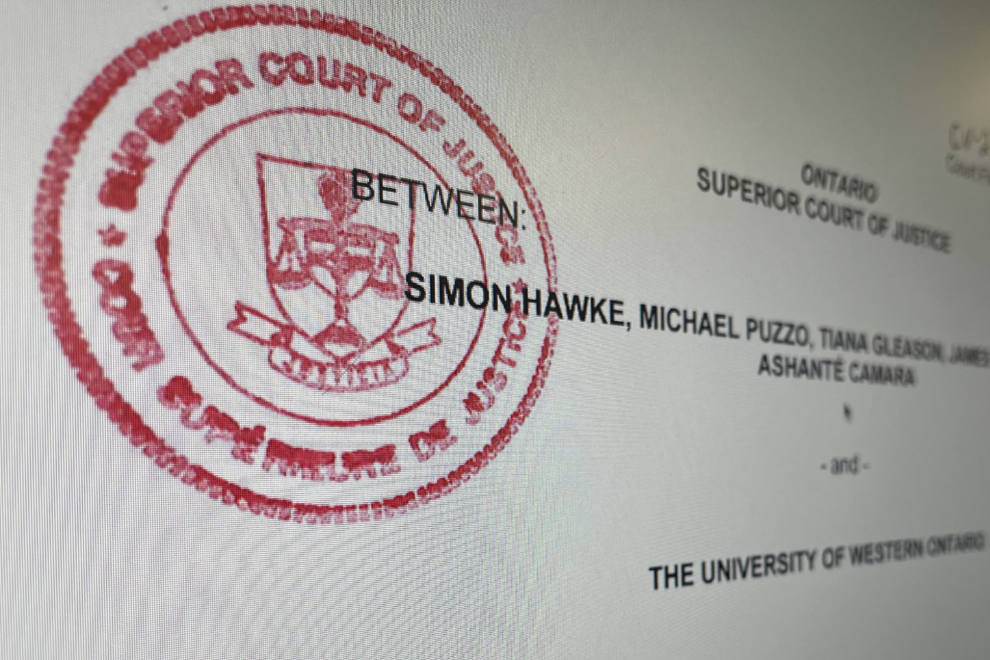 Five Western students suing the university over its vaccine mandates are demanding the court order the destruction of all past and present vaccination records. 
In the three hour hearing Monday morning, Justice Kelly Tranquilli heard arguments from the student's lawyer Lisa Bildy and the Western University's lawyers Nadia Effendi and Christine Muir. Bildy and her clients are seeking a permanent injunction to prevent the university from requiring students to provide proof of their vaccination status as well as an order the university to dispose of all personal vaccination information, whether it was lawful at the time of collection or not.
This destruction of vaccination information would include the COVID-19 vaccination records submitted for the 2022-23 school year, as well as the vaccination records submitted for the 2021-22 school year.
The five students — Simon Hawke, fourth-year neuroscience, Tiana Gleason, first-year Law, Michael Puzzo, third-year criminology, James Donalds, first-year nursing and Ashante Camara, third-year Social Science — served papers to Western on Sept. 6. The school announced an updated vaccination policy on Aug. 22, requiring all students to have at least one booster shot of an approved COVID-19 vaccine by Oct. 1. Western has since extended its deadline for students to submit their booster information to Jan. 9, 2023.
Judge Tranquilli noted at the start of the trial she has a personal connection to the case — with two family members currently attending Western — but determined she had no legal conflict of interest. Neither party objected to her presiding.
The court is determining whether Western has the authority to collect and store students' vaccination information and whether this data is necessary to mandate the school's  vaccine policy, or if it infringes on the Freedom of Information and Privacy Protection Act.
Bildy argued the late announcement of the vaccination policy forced students into a "coerced disclosure" of their vaccination status and Western's delayed deadline for submitting proof of vaccination "undermined" the urgency and necessity of the vaccine policy. She also argued that an institution like a university is for educational purposes only, not for creating vaccine mandates, and that the university was an outlier in its policy.
The university rebutted this argument noting that post-secondary institutions do numerous things beyond education. Effendi and Muir also noted that fewer than 20 people at Western have access to students' vaccination information.
The university's defence cited multiple post-secondary institutions in Ontario collecting some form of vaccination information this fall, including Carleton University, the Ontario College of Art and Design University and Toronto Metropolitan University. Western is the only university in the province mandating booster doses, though many others are mandating double vaccination. 
Western maintained the school has full policy-making authority on campus and argued that if the court were to side with the students it would be "stepping into Western's policy-making shoes." 
The school added that it consulted with numerous medical officials and researchers in the process of creating their policy, with the chief medical officer of Ontario, Dr. Kieran Moore, "wholeheartedly" supporting COVID-19 vaccination policies, according to the affidavit of Jane O'Brien, Western's associate vice president of human resources.
Both parties argued that a decision for this case was needed as soon as possible, with Tranquilli agreeing that the case had her "full attention." No date has been set for a final decision.