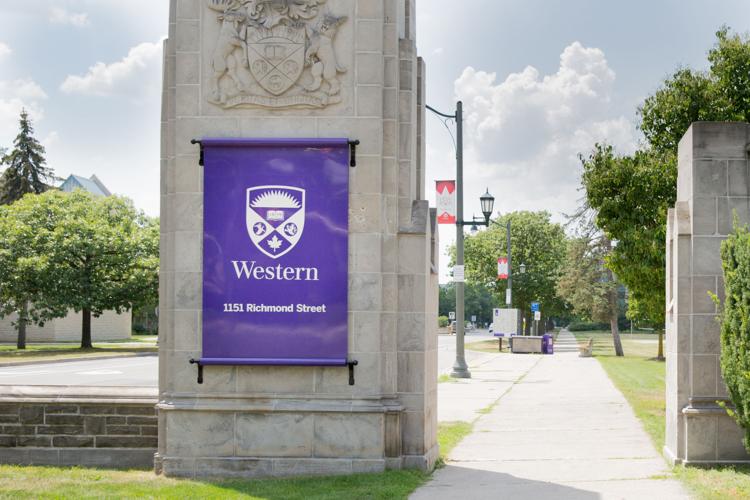 Western's Anti-Racism Working Group issued its final report, detailing students' experiences on campus and recommending 24 next steps, in effort to rebuild how the university handles racism.
The 66-page final report was sent to Western University's president Alan Shepard on May 19, but published Monday morning alongside his commitment to the report.
The working group held listening sessions, took written submissions and collected data through campus-wide and national surveys to create recommendations that cover hiring practices, reporting incidents, policy, curricula and training. The document outlines their research and discussions with multiple students, staff and faculty who have experienced different forms of racism on campus, with a specific focus on anti-Black racism.
"The stories we heard and the data we gathered affirmed for us that there are systemic problems embedded within the university's colonial history, traditions, structures, practices and policies that normalize 'whiteness,' that 'other' racialized groups and that perpetuate racism," the report says in its introduction.
The report has been highly anticipated since Shepard commissioned the group in January 2020, in response to racist attacks targeting Western student Chizoba Oriuwa for speaking out about an English professor who used the N-word during a class last October.
Of the 24 recommendations listed, Shepard chose six that can receive "immediate resources, attention, and commitment to make them happen." These six include reviewing existing policy and reporting methods, strengthening training programs, committing additional funding to equity initiatives and introducing an awareness campaign.
In an interview with the Gazette, Shepard clarified the university has not yet determined how much funding the program will immediately receive. And while it will be a long process to address all 24 recommendations –– something he promises to do in the long term –– Shepard plans to hit the ground running.
"I'm hoping over the next six months we can make really substantial progress that we can point to — that's my plan," Shepard told the Gazette. "It won't solve all the problems but it will move us ahead as an institution."
Shepard will also be introducing a new senior administrative position and a dedicated council for equity, diversity and inclusion that will help implement the recommendations and advise campus groups and top brass.
He expressed optimism about the progress the anti-racism group will bring forward and said the university needs "to do more and faster," while acknowledging the faculty, staff and students already working on these issues daily.
Western's legacy of racism
In his written statement, Western's president acknowledged and apologized for "the deep harm that has been experienced by many members of the Western community and beyond as a result of [J. Philippe] Rushton's work," as suggested in the working group's report.
Rushton was a member of Western's faculty until his death in 2012, focusing many years of his controversial career studying race and intelligence. He was never reprimanded by the university, as Western claimed his work was guarded by academic freedom.
"I do apologize sincerely for the deep harm that has been experienced. I acknowledge how divisive events of decades past can continue to impact the present," Shepard wrote. "And I do so in the hope and conviction that Western has the opportunity to focus on the future, and to participate fully in building a better and more just world."
The final report
The report details experiences of anti-Black and anti-Indigenous racism, anti-Semitism, Islamophobia and xenophobia on campus and in the London community.
Discussion sessions with students, faculty and staff led the group to find common themes in the long line of racist experiences shared. Notably, the group found students lacked trust in the university's reporting system and didn't feel those who commit racist acts will be held accountable. Most participants also noted the lack of mandated training for students, staff or faculty.
The report calls this a "community level problem" that can only be solved from within, especially by infusing equity, diversity and inclusion into university policies and holding those who violate them accountable.
The group's proposed 24 recommendations focus primarily on policy reform in response to instances of racism. They suggest implementing an "anti-racism action plan" and an Anti-Racism Task Force to ensure the university follows the recommendations in the future.
They also call for increasing on-campus support for people impacted by racism and ensuring they feel safer on campus by introducing an anti-racism campaign similar to those the university implemented about gender-based and sexual violence and anti-smoking. The report suggests that better communication and transparency will reflect positively for prospective students choosing which a campus to be part of.
The anti-racism group of 20 students, staff and faculty was co-led by Lisa Highgate, associate director of Residence Conduct and Conflict Resolution, Jina Kum, president of the Society of Graduate Students and Erica Lawson, undergraduate chair of Women's Studies and Feminist Research.
Shepard will hold a town hall on Wednesday to discuss the findings and next steps.
Correction (12:58 p.m. June 22, 2020): Lisa Highgate's title was corrected to reflect that she is the associate director of Residence Conduct and Conflict Resolution.