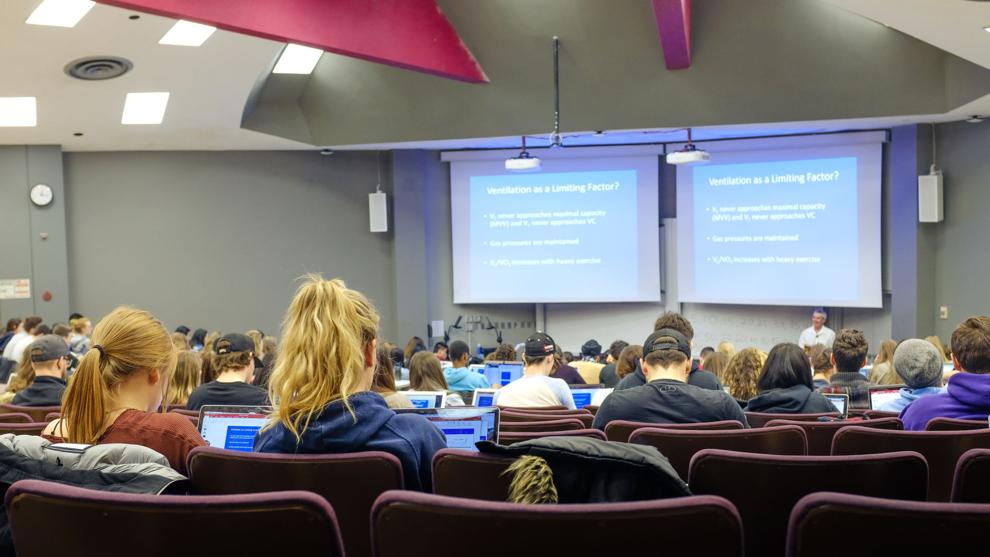 Western professors are calling out the university for mixed messaging after the school released a statement warning students in-person activities could be canceled in response to OWeek parties. 
Western University president Alan Shepard and University Students' Council president Zamir Fakirani published the joint statement Tuesday night. The statement called on students to put a stop to large group gatherings and "aggressive behaviour" or risk canceling all in-person activities including classes, athletics and extracurricular activities. 
The message came in response to large gatherings reported near campus, especially on popular party street Broughdale Avenue. 
Professors at Western have since spoken out about the university's message, with many calling it hypocritical. 
"It was so tone deaf and frankly, callous." said Jacob Shelley, an associate professor at Western Law. "I can't believe that in less than a day, an administration that has repeatedly ignored the calls of community members to increase safety measures on campus, immediately turned on the students."
Did our on-campus fall plans honestly hinge squarely on the assumption that the students wouldn't party? https://t.co/ZEpf1juapx

— Samantha Joel (@datingdecisions) September 7, 2021
With classes starting Wednesday, students attending in-person lectures are in classrooms that have no capacity limits or social distancing requirements. The university has mandated everyone on campus be vaccinated and wear three-ply non-medical masks, as well as carrying out other measures such as proper ventilation and regular cleaning in classrooms. 
This messaging from universities that it's safe to gather in large classrooms but not at parties is clearly not landing very well.I think people are generally very tired of being told that the pandemic is over when it comes to labor but ongoing when it comes to leisure.

— Samantha Joel (@datingdecisions) September 8, 2021
"We have created an environment where we told students it's safe to meet in classrooms that have giant interactions with lots of students and hundreds of contacts a day," said Shelley. "It's just naive and willfully blind to think that that also wouldn't mean the students at Western University, which has an international reputation as a party school, wouldn't party."
Western is one of several universities releasing statements calling on students to stop partying or risk the cancellation of in-person activities and classes. Wilfrid Laurier University went the further step of threatening to expel students identified partying off campus.
Dear @WesternU, This is embarrassing for two reasons. First, the behaviour you call out was predictable with a high degree of confidence. Second, you reply by advocating a failed strategy (Behave!). Your community deserves better. @UWOFA @JacobShelley @maxwellsmith @jefftennant https://t.co/JxeKHQdjRy

— Anthony Skelton (@HenrySidgwick) September 8, 2021
Associate professor and chief negotiator for the University of Western Ontario Faculty Association, Jeff Tennant, shared Shelley's sentiment, saying the university has not exhausted all possible measures.
"If the university were planning in a way where health and safety had a higher priority than return to normal, they could have decided a fall semester that would respect stage three guidelines, like Carleton, University of Windsor, Waterloo have done," said Tennant. 
These universities have committed to ensuring social distancing measures and capacity limits in indoor spaces on campus.
The role of the UWOFA is to speak on behalf of faculty at Western. According to Tennant, many faculty members are wary of a lack of safety measures implemented in classrooms. 
"They're concerned. They're concerned for their own health and safety and that of their students," said Tennant. "And also because there doesn't appear to have been parallel planning of different scenarios." 
In response to a request for comment, Sarah Prichard, acting provost and vice-president of academics, restated that Western protocols were built based on guidance from the Ministry of Colleges and Universities. 
"The framework outlined that physical distancing is not required in instructional spaces such as classrooms, labs and libraries," said Prichard in a statement.
Prichard also noted that the university had virtually no transmission in instructional spaces last year.
---
Update (Sept. 10, 2021, 4 p.m.): This article has been updated to reflect that Sarah Prichard's comment was in response to a request from the Gazette.