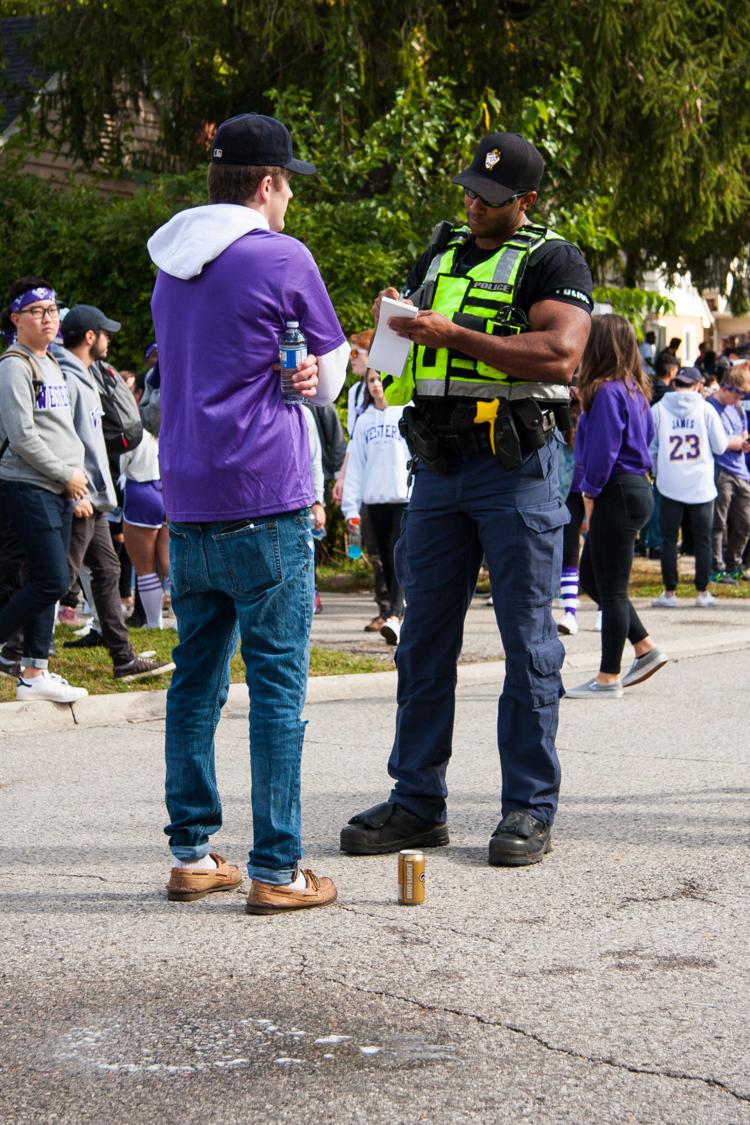 With police's presence and power rising this Fake homecoming, you should know your rights. 
Under a new agreement, police can give over details about anyone charged with a provincial or federal offence to Western University, so Western can sanction students under the code of conduct.
For the first time this year, along with charges from police, suspension and expulsion can come from Westerns processes, threatening your university career.
This leaves the question: do you need to tell police that you are a student?
The Gazette spoke to Jason Voss, of Western's Community Legal Services Clinic, to understand the rights that students have with police.
To answer the question simply — you don't need to tell the police anything. 
"Anybody who is interacting with the police has a right to silence," said Voss "You are under no obligation to tell the police whether you are Western student, Fanshawe student or student of any institution.". 
Under section seven of the Charter of Rights and Freedoms, Canadians are entitled to fundamental legal rights, which includes a right to silence. 
"As a lawyer, we would say: don't say anything about whatever incident the police are investigating," said Voss. 
There are situations when being silent can have repercussions, however.
Many Fake HOCO partiers are issued tickets for open liquor offences. In that process, if you're actually being written up, refusing to identify yourself in that context differs from another, more routine discussion with police.
Though there are thousands of drinkers on the street, police can arrest you to learn your identity. The choice is yours.
Leading up to Fake Homecoming, the police have been handing out tickets under a recently amended nuisance party bylaw.  They've fined 12 people so far, all young renters. 
Last year, charges and warnings skyrocketed with students also being charged with fire code violations for being on roofs.
Cameras have been planned Broughdale — the purpose of these are unclear at the moment. Police say they're for finding partiers who need help, but it's unclear if they will also be used punitively.
The trend from year-to-year when it comes to police charges has been upward. The expansive preparations from both police and Western this year are all pointing to an approach of punishing Western students who attend Broughdale.
Voss warned that it is legal for the police to use pressure tactics and try to gain information from you.
Even if the police say something like: "this is gonna go bad for you," or maybe "only guilty people don't talk," you do not need to answer. They could say "this really looks bad for you," and "we've got other people saying it was you," but you do not need to admit to anything. 
Voss did mention that it is important to remain respectful. Using phrases like "I am exercising my right to silence," or "I am following the advice of my lawyer" are good options to use.  
The legal clinic gives free legal representation to students in many criminal issues. This means students can contact the clinic for help in the aftermath of their Fake Homecoming.
Voss said they won't be alone — they always see an influx in party season. 
Update (Sept. 27, 10:35 a.m.): this article has been updated to reflect a consequence of not speaking to police. The Gazette regrets this omission.