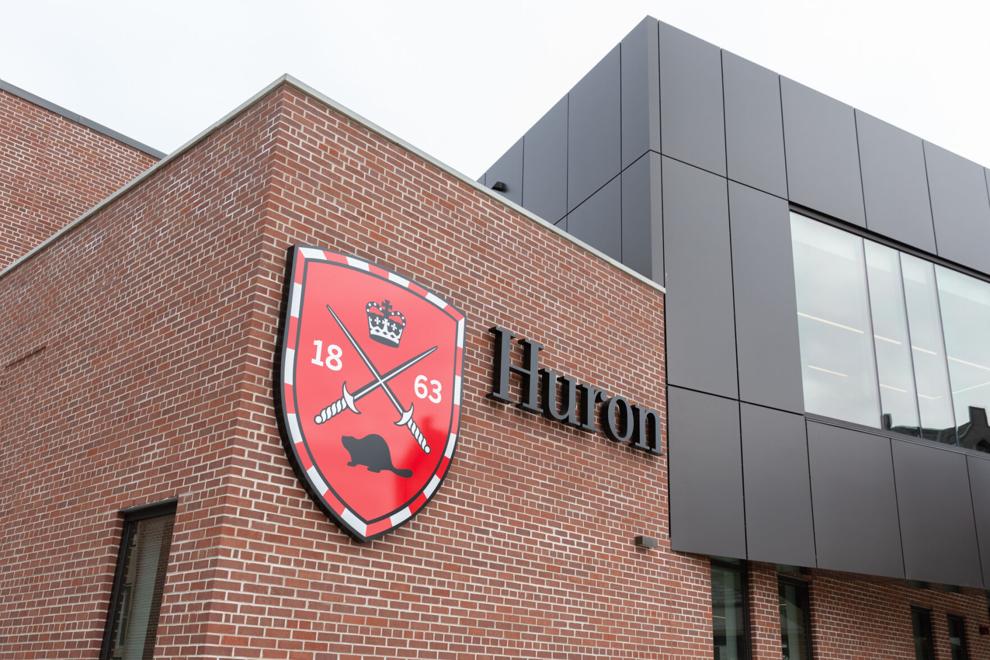 Huron president Barry Craig said the students' council's statements suggesting Huron hopes to "disaffiliate" from Western University are inaccurate, as Huron plans to alter a specific part of the affiliation agreement — only focusing on academics.
According to Craig, this model of affiliation is used elsewhere in Canada, at St. Thomas University, an affiliate university of the University of New Brunswick. But, the separate academics model is not so common in "this part of Canada," according to Craig.
"What happens in the affiliation agreement is four independent and autonomous institutions negotiate ways in which they can rationalize resources and share them. The way it works now is … we pay fees, get certain services and in the end, [Huron University College] students get a Western degree," Craig said.
"The part I'm looking to change is that in the end [students] get a Huron degree, but the sharing of services, the crossflow of students … I don't know why that would have to be interrupted."
But, a compromise must be reached once negotiations begin. If Huron gains complete academic autonomy — including degree granting authority — Shepard has indicated Huron may be required to pay more for Western services. Huron currently pays a reduced rate.
"We won't sign any new agreement unless our current students are all protected and get the experience that they signed up for," said Craig. "We are still operating under the current affiliation agreement and we'll stay under that until we find a satisfactory [replacement] … but we will not sign any agreement that takes away from what current students have."
In the affiliate agreement between St. Thomas University and UNB, the two schools share UNB's library, book store and student centre among other facilities — but, St. Thomas University is able to grant their own degrees.
No other large Ontario university has the same type of affiliate agreement that gives a college authority to grant degrees and academic independence to the same extent. 
"My priority is just to focus on key elements of the proposal, which are academic autonomy and control over our own academic programming," said Craig. "I want to preserve as much of the rest of the affiliation as possible."
Consultations will continue for the next five months, before bringing the vote to Huron's Board of Governors in August. Only if the vote passes at the Board will Huron enter negotiations with Western.
But, students say the college's consultations and feedback mechanisms have so far been insufficient. The students' council released a 29-page report to the public on March 29, condemning the administration's decision to move away from Western.
"Our contention [with the proposal] is that all existing avenues of feedback to engage with students have been passive rather than active, which places the impetus on the community to make themselves heard," said Ziyana Kotadia, president of the Huron University College Students' Council.
Kotadia defines an active feedback mechanism as one that "displays and acts on an intention" to present an unbiased reflection of student voices. She is concerned only students who are actively and consistently involved in student life and politics are being heard — masking the voices of those who may not be used to sharing in a public setting.
Craig responded to the HUCSC report in an email, listing 19 instances where he consulted the community or attempted to update them on the proposal including a virtual Town Hall all Huron students were invited to and an email sent to Huron students outlining the proposed timeline.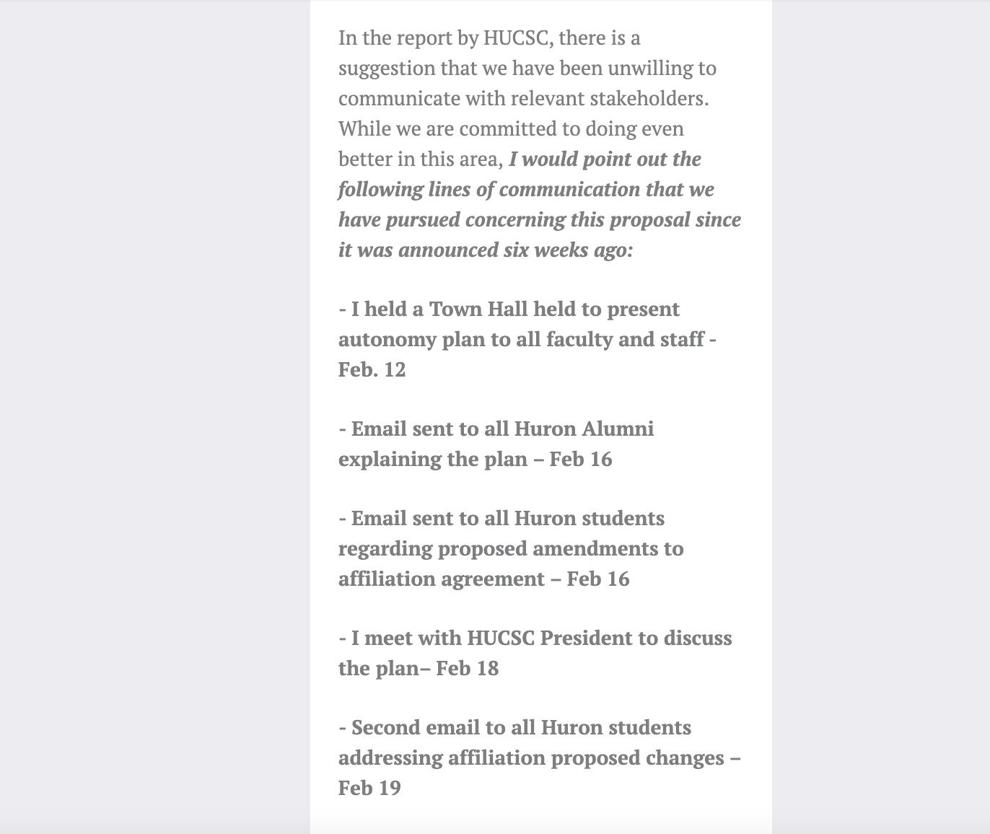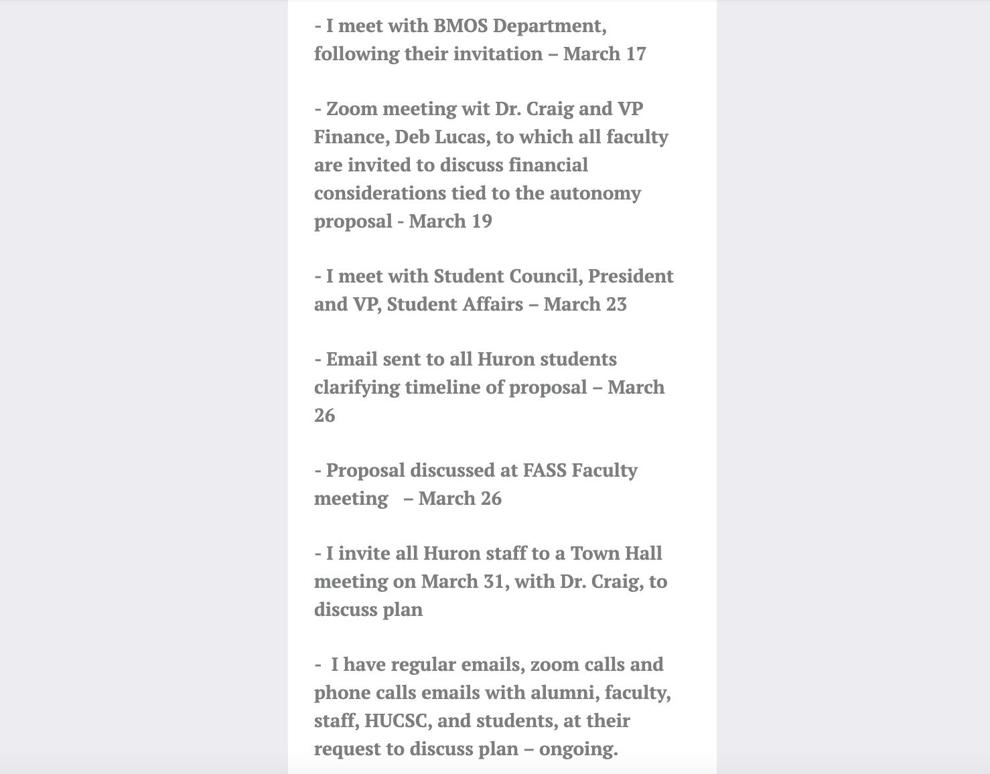 "We are concerned about the lack of transparency that [the passive] approach yields because … students and stakeholders are often unable to hear one another because so many of these concerns are being handled bilaterally on Zoom calls," said Kotadia.
The HUCSC's report demands the college's board vote be delayed until in-person community consultations can be held.
The report also outlined concerns held by the student population alongside data showing the importance of Huron's affiliation with Western, with 94 percent of the survey participants saying the affiliation "influenced their decision to attend Huron."
Approximately 300 Huron students participated in the feedback process. Around 1,500 undergraduate students are enrolled at Huron currently.
The students' council's report hones in on three suggestions for Huron administration to adopt moving forward — a framework to outline goals of the consultation process, a process involving active consultations and a clear outline of proposed changes and the rationale of the changes.
Kotadia hopes the Huron administration will look at alternative methods of collecting feedback, such as focus groups or referenda. 
"I knew that there were a lot of concerns and a lot of confusion, I think part of the thing I want to do in the next coming week is clear up misunderstandings," Craig said. "Obviously students appreciate the value of affiliation. They like being able to use the services at Western and so we never proposed getting rid of those."
Craig highlighted that current students will not be affected by the renegotiations — as Huron will only place a request for the provincial government to give Huron degree-granting authority after 2023, and promises to delay any other changes until then.
Craig hopes to prioritize communication to clear up misunderstandings in the coming weeks.
"We have nothing to hide about this proposal, it's just about trying to get the information out."