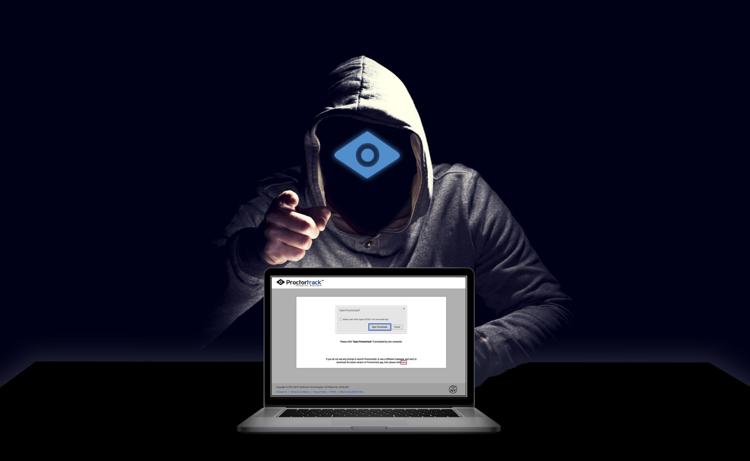 Proctortrack, an invasive robo-proctoring software commonly used in remote testing, has become the norm at Western and other universities as schools look for ways to maintain academic integrity with remote learning.
The software uses a computer webcam to monitor students during major assessments like tests and exams. It tracks keystrokes, monitors screens and scans students' faces and knuckles — watching for hints of academic dishonesty.
Western University struck a deal with Proctortrack in anticipation of e-learning, giving professors the option to mandate the use of the software for class assessments. Students in those courses must use the proctoring service to pass their exams.
Despite Western's assurances of the program's safety and security, critics have raised concerns about the software — especially regarding its potential to violate the privacy and compromise  the personal information of students who are required to use the service for class.
Carac Allison, director of web and information technology at Western, explained the software reviews student webcam videos for indications of suspicious activity, like looking off-screen at notes or leaving the testing area. 
"It's as invasive as it needs to be and not any further," said Allison, who clarified that all final decisions about the suspicious activity flagged by Proctortrack are made by instructors.
"If an instructor is concerned that a student might be violating academic integrity or using [their computer] in a way that they're not supposed to, that is always the instructor's call."
Western established a relationship with Proctortrack through eCampusOntario, a provincially funded non-profit organization dedicated to developing online learning at the post-secondary level. The organization encourages educators to use the software while teaching remotely.
Allison recognizes the complaints students have levied against Proctortrack. Western Technology Services said they have worked to fix security issues students may have and Allison highlighted Proctortrack's dedication to protect privacy, citing their promise to periodically delete student's information.
But, this isn't enough for some critics. Many feel that, no matter their public commitments, this now-ubiquitous software ignores personal safety.
One of these critics is Samuel Trosow, a Western law professor who focuses on privacy. He said that, while academic integrity is important, students' privacy and personal information should always come first.
"I think it's more invasive than it needs to be," said Trosow. "I would like to better understand on what basis [Allison] makes the claim that it's no more invasive than it needs to be."
In addition to common data, like students' names and identification, the software may also collect addresses, zip codes, photos, phone numbers, email addresses, screen-captures, video recordings, biometric data and even employment history.
In their privacy policy, Proctortrack states this information can be held up to six months after a proctored test. But, the identity, profile and data collected in the identification verification process can be held for up to two years.
This kind of extended data retention can be even more dangerous when the company allows  third parties to use the data, according to Trosow. Proctortrack's privacy policy  states their services may contain links to third parties, and these companies do not need to adhere to the same privacy rules.
"Every time you share a data set with another third party, you're increasing the potential for data breach," Trosow explained.
While Trosow understands the need to retain information in academic settings, he said this excessive and prolonged storage of data seems to indicate that the company may be using the information to create data banks of personal information that could be passed on to third parties.
Trosow also understands certain information may be needed for exams, but  he asserted that a lot of the data accessed by Proctortrack is personal and unnecessary to prevent cheating.
"They've got all this stuff, how long are they going to keep it? And what can they do with it?" Trosow asked. "And what happens if there's a data breach?"
The professor said eCampusOntario and Western should not promote the software, as the company's terms of service and privacy policy raise major red flags, especially due to the amount of information the software collects.
As a member of the Board of Governors and a former member of the senate, Trosow said he never heard about the software and that it was installed without discussion by the school's decision-making bodies.
In order to make the program work for Western, Trosow said the data collected should remain with the universities, and that all data should be deleted as soon as the assessment is verified.
"Perhaps, instead of insisting on the same traditional closed-book exam that we would use under normal circumstances, maybe we can make the exam open-book," said Trosow. "Which really takes away a lot of this pressure."
---
This article is part of our annual Frosh Issue, read the full issue online.