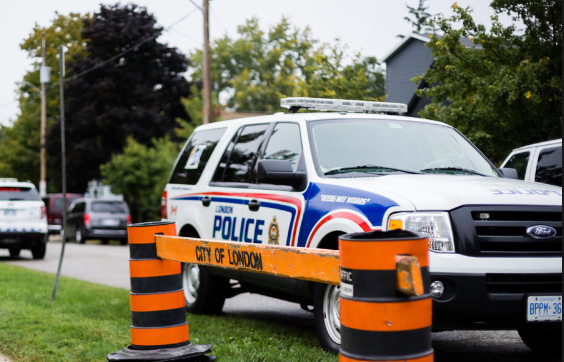 With a peaceful protest taking place in support of the Black Lives Matter movement in London Saturday, demonstrators in the community should know their rights when confronted by police.
Protests erupted throughout the United States, Canada and around the world in the days following the death of George Floyd, a 46-year-old Black man in Minneapolis, who was killed while in police custody. The media has been flooded  with stories about delivery workers being arrested in New York, city-imposed curfews and police using tear gas to disperse protesters — across the US and in Montreal.
So, amid all the violence and police crack-downs, what rights do protesters have in confrontations with the police?
According to Erika Chamberlain, dean of the Faculty of Law at Western University, protesters in Ontario have the right to be informed of and ask for the reason they are being detained. They also have the right to contact legal counsel.
"If you are not sure whether you are being detained, you could ask something like, 'Am I free to go?'" said Chamberlain, in an email. "If the answer is no, then you are being detained."
But being detained does not mean you are being arrested. Detention occurs when an officer is briefly holding and questioning you, restricting your ability to leave. An officer must develop and inform you of a probable cause in order to arrest you.
Police also have the authority to conduct a pat-down search on protestors who are detained, only if it is in the interest of safety. 
More generally, police have the right to question anyone, but you do not have to answer their questions. Protestors also do not need to provide identification unless they are driving or police are issuing a ticket.
If you are being ticketed and still refuse to identify yourself, police can arrest you in order to learn your identity.
According to Chamberlain, protesters can be arrested for mischief, such as the destruction of property. They can also be arrested for causing a disturbance or common nuisance, which includes preventing other people from exercising or enjoying their rights or endangering public health and safety. 
Rioting and "unlawful assembly" can also be cause for an arrest. 
Rioting is defined as three or more people causing a violent disturbance, whereas unlawful assembly is a gathering of three or more people who provide good reason for others to believe they will cause a violent disturbance. 
But according to Matthew Lebo, Western's chair of the department of political science, these solidarity protests have been mostly peaceful — and the instances of violence that have occurred have mostly stemmed from police-on-protester violence, and few instances of protester-on-police violence. 
"Police [are] just being gratuitously brutal" said Lebo. "Just to be bullies because they can be, and that's really scary to watch."
Lebo added that it is important to remember different kinds of protests exist — some legal and some not — and rights can vary depending on the circumstances. 
"You can't legally take a group of people out and stand on the 401 and protest and block traffic," said Lebo. "You can of course, legally protest in lots of [other] areas."
Saturday's Black Lives Matter demonstration will take place in Victoria Park and will see London's police force as well as members of city council in attendance. The peaceful protest will begin at 3 p.m.
"Things look rosy in Canada, but they are far, far, far from perfect," he said. "It's good that people in London also recognize that this isn't just being in solidarity with racialized minorities in the United States — it's about problems in Canada as well."