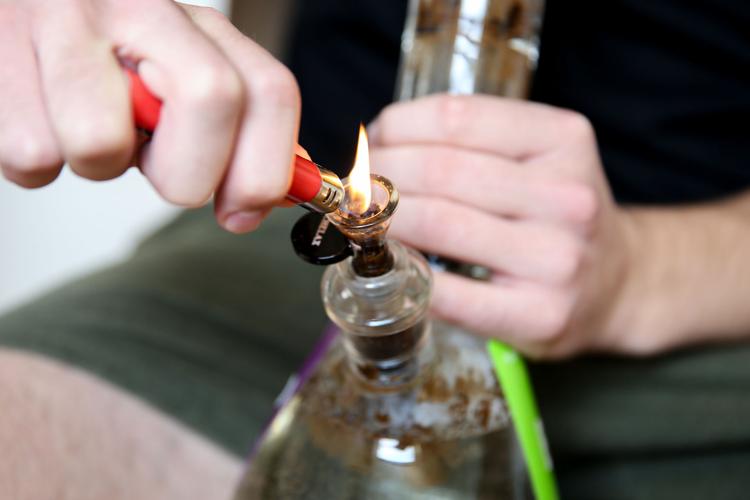 Two weeks after the legalization of marijuana, the scientific community is scrambling to fill the large knowledge gaps present in the literature on marijuana use.
Steven Laviolette, a Western anatomy and cell biology professor and one of Canada's top researchers on marijuana, highlighted what science knows so far about the effects of its exposure on mental health in a seminar on Monday.
"From the scientific point of view, we find ourselves in the unique position where we have to play catch-up with the fact that we're about to start a massive socio-clinical experiment in Canada with the full legalization of marijuana," said Laviolette.
Laviolette discussed the long-term effects of marijuana, links to schizophrenia, therapeutic effects and implications for current public health policies. Here are some of the main takeaways from the seminar:
What is marijuana made of?
Marijuana is a highly complex plant with over 100 different chemicals in it. Two of the primary components are CBD (cannabidiol) and THC (tetrahydrocannabinol), which result in opposing effects on the nervous system. Most of the therapeutic anti-anxiety, pain-relieving and anti-psychotic properties of marijuana are attributable to CBD, while hallucinogenic properties are attributable to THC. 
While different marijuana plants have different levels of THC, levels of THC in the U.S. marijuana market have been steadily increasing since the 1970s. Between 1995 and 2015, marijuana THC levels increased from 4 per cent to 13 per cent.
"The idea of legalization is that the government will now be able to regulate the levels of THC," explained Laviolette.
Laviolette explained one study tested THC levels in marijuana from several dispensaries in the U.S. state of Oregon, where marijuana is legalized. The study found strains that were advertised as having five-six per cent THC actually had THC levels upward of 30 per cent.
"This raises the question as to whether or not we're going to be able to accurately control the levels of THC once it reaches the regulated marketplace," he said.
Marijuana use during adolescence
According to a 2013 UNICEF report, Canada is the global leader in teenage marijuana use. Further, Laviolette said 20 per cent of Canadians aged 15 to 24 have used cannabis in the past year.
"We know that adolescence is a period of very strong vulnerability in the brain," said Laviolette. "So you can imagine if you throw a wrench into a very complex system and a very active and dynamic process is going on, you're going to end up with some serious consequences."
The first evidence of long-term negative mental health effects from adolescent cannabis use on long-term mental health came from a 1987 study. It showed high levels of adolescent exposure to cannabis "dramatically" increased the likelihood of being diagnosed with schizophrenia later in life.
While this study was quite controversial, Laviolette explained these results have been replicated many times since.
Laviolette's work used animal models — rats, specifically — to study the behavioural and physiological long-term effects of adolescent THC exposure. Rats exposed to moderate-to-high THC levels during adolescence displayed a number of negative phenotypes — observable characteristics — in young adulthood, including increased anxiety, decreased social interaction, weaker memory, increased depressive symptoms and disrupted sensory processing.
"Keep in mind that these phenotypes are happening 30 days after their initial exposure to THC, but 30 days is a long time in the life of rats," added Laviolette. "They have about a two-year life span, so that's a very significant chunk of time that these phenotypes are persisting in these animals." 
Marijuana-related deficits potentially reversible
Laviolette's work on rats has also been able to reverse the negative effects of marijuana use. Through the regulation of a key neurotransmitter in the prefrontal cortex, deficits in memory, social recognition and anxiety were successfully reversed to normal levels.
"That's quite exciting because it suggests that these effects of adolescent THC might not be irreversible," said Laviolette. "We might be able to go in and use pharmacological tools to hopefully reverse some of these very serious phenotypes that we're seeing."
CBD, the cure-all 'magical elixir'
Cannabidiol, or CBD, has recently received significant media attention due to its anti-anxiety, pain-reliving properties. A New York Times article referred to its touting as a "magical elixir, a cure-all now available in bath bombs, dog treats and even pharmaceuticals."
Laviolette explained CBD is particularly interesting for its potential as a medication for schizophrenic patients.
"Currently there are not really effective anti-psychotic medications for schizophrenia that don't come with a host of really nasty side-effects," he said.  
Research that compared CBD to traditional anti-psychotic schizophrenia medication showed CBD relieved schizophrenic symptoms with efficacy similar to traditional medication with very few side effects.
However, Laviolette explained the mechanisms underlying CBD's functions are poorly understood due to a lack of research.
Implications for public health policy
According to Laviolette, these findings leave us with a number of unanswered questions: How will levels of THC and CBD in marijuana be regulated? Are 18 year-olds too young for exposure to high THC marijuana content? Is there any way to make marijuana safer by developing more effective formulations?
"These are all important questions that still need to be addressed," said Laviolette.
Update (11:25 a.m., November 6th): the article was updated in paragraph eighteen to specify the New York Times' reference of CBD as a "magical elixir."