With the construction of the new academic FIMS and Nursing building (FNB) at its halfway point, here's a sneak peak of what students can expect once the ribbon's cut.
Design
Tom Tillmann, principal architect at London firm Architects Tillmann Ruth Robinson (ATRR), said FNB's four-storey design is built around two major concepts: natural light and common space.
"I think the common space is what's going to give this building some soul," Tillmann said, adding there's a push across North America for more communal space in facilities.
"It's going to be a place where people will want to stay and … give the building the life, excitement and energy that it needs," he continued.
Additionally, Tillmann's desire to maximize the building's natural light stems from research suggesting people do better in buildings where they feel connected to nature. To achieve this, the building will feature "a fair bit" of glass. Although this means the building's style is contemporary, Tillmann said it will still blend in with Western's more traditional buildings.
"When you're building on Western's campus you have to respect its collegiate gothic architecture," Tillmann said. "What you'll see in the academic building here is … there's enough stone and the detailing of the building ties it back to the campus architecture."
Lastly, a crucial element of the design was the architects' decision to bring the building to the curb. Previously, the old Western Service Building, which used to occupy FNB's spot was pushed back from the corner of Huron Drive and Lambton Drive. In contrast, the upper floors of the new building's FIMS wing will overhang and reach toward the street. Tillmann said this model makes people feel more connected to a building rather than in the past when buildings were placed far away from the street and behind large parking lots.
Features:
Courtyard
To acknowledge FNB will be home to two faculties, the 136,000 square foot building will include an outdoor courtyard where students, staff and faculty from both disciplines can mingle together. The courtyard, sandwiched between the two faculties' wings, also serves to draw the sun's rays into the inner-building.
"We hope to have a great outdoor space, so the building has life not just inside but outside," Tillmann said. "The courtyard was a nice way to get natural light deeper into the building."
Classrooms
The setup of the new building's classrooms will be diverse, ranging from 48-seat active learning classrooms to a 130-seat tiered formal lecture hall. In addition, Tillmann explained there will be no fixed seats in most of the classrooms so "professors can set up for different learning environments." As part of the active learning classroom, projectors can turn all four walls into interactive and hands-on screens.
Food services
When students first enter the FNB in January 2017, they won't spy a brand-new Tim Hortons, according to Jeff Jones, Western Facilities Management project coordinator. The University will wait until after FNB's up and running to gauge demand for another campus eatery. Until then, there's a Tim's in the nearby Health Sciences Building or Lucy's cafeteria up the hill in Somerville House.
FNB's other features:
Clinical training and computer laboratories
Media studies studios, including a newsroom and radio station
Nursing simulation labs modelled after hospital patient wards
Sixty-seat flexible general purpose rooms
Library science facilities
Faculty/staff offices
A potential shower for bike commuters
Sustainability
Although FNB will not be certified by Canada's Leadership in Energy and Environmental Design like some of Western's other campus buildings, the infrastructure is designed to meet the Canadian Green Building Council's performance standards.
"While we're not seeking a LEED certification, there was an interest on behalf of the University to get LEED principles involved in the project," Jones said.
Tillmann explained when it came to the building's material selection, Western focused on using elements that will last, like stone. Between the building's design focus on natural light and room occupancy sensors, Tillmann said the use of light fixtures will be minimized. Further, the roof will be treated with a reflective coating to reflect heat and help with cooling the building during the summertime.
Lastly, the project will follow Western's policy to replant at least one tree for every tree removed.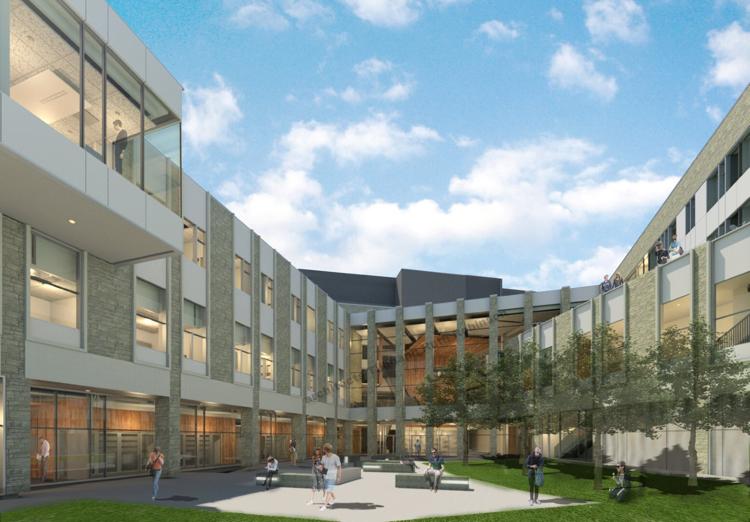 The architects
The firm's FNB project team consists of principal architects Tom Tillmann and McMichael Ruth along with associate Sonny Eastman and senior contract administrator Louie Polito.
Beside this project, though, ATRR is already familiar with campus. The firm designed Ontario Hall, revamped the Physics and Astronomy building in 2011 and is behind Saugeen-Maitland's current dining hall renovations.
While ATTR designed the FNB's preliminary architectural plans, Tillmann said each project involves a "back and forth process."
"We take a lead in the design of it, but it's not like we can take full ownership of it," Tillmann said. "We do want buy-in from users and Western as a whole."
As for FNB, Jones said the construction process is going smoothly and everything looks promising for the academic building's opening in a year.
"Bringing [the faculties] together is what starts to make the building a bit unique," Tillmann said. "We're trying to make the building be a campus building, but still give [the faculties] identity."