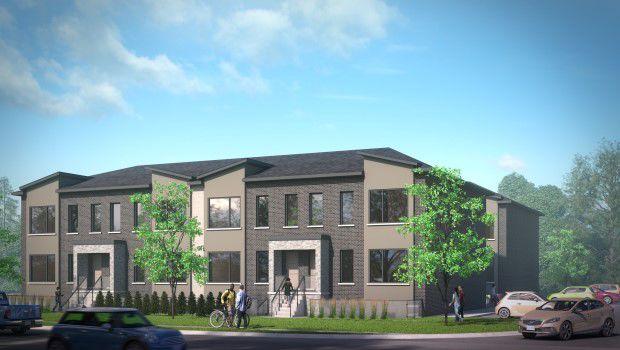 The proposal of two townhouse buildings on Windermere Road has sparked backlash from its surrounding neighbourhoods.
The proposed buildings are two high-density complexes to be built at 536 and 542 Windermere Rd., which will consist of a total of 16 individual townhouses.
The neighbours in the area, who voiced their concerns during a public town hall meeting last week, focused on the likely residents of the new townhouses — students.
One frustrated neighbour likened the proposal to a "60-bedroom rooming house" and was worried it would put their safety at risk, according to the London Free Press.
City politicians eventually decided to send the proposal back to the planning committee, agreeing with the community's notion that the proposal needed refinement.  
"I think people were upset that the development was going forward in an area that had not been developed before," said Ward 6 councillor Phil Squire. "It was something certainly new, and the density of the development was quite high."
"There seems to have been some concerns expressed about the type of people who might live in this building," he added. "That was where I have concerns."
According to Squire, neighbours' concerns about the development attracting too many students dominated the discussion.
"This focus on students and perceived student behaviour was taking over a discussion that really should have been about the building and whether the building was appropriate for the space," explained Squire.
According to Squire, the developer was "fairly clear" that they weren't focusing on any particular group.
The proposed townhouses are part of London's infill development initiative. Commonly known as land-recycling, infill development is aimed at rededicating already-used land rather than expanding the geographic borders of the city.
"It is the future," said Squire. "We're going to have to start providing this type of housing or we're not going to retain people in London who can contribute to the city."
Councillor Squire's optimism was not echoed by the proposal's neighbours. Tony Mara, one of these neighbours and head of the Orkney-Angus Ratepayers Association, expressed his fears during the meeting.
"What we ask is that the planning committee not make us, the neighbours, pay the greatest price in this situation," said Mara.
Sandra Leckie, a fellow neighbour, echoed Mara's sentiment, stating that "the lands don't need infilling.… They're full."
City councillors voted in favour of sending the proposal back to the planning committee to make adjustments.
"We didn't throw it out, we sent it back for them to make changes," said Squire. "So, hopefully, they'll come back with a development that will match up to the property."
"There are lots of [students] who live in the city and a few bad apples who caused problems — we deal with that," he added. "We take care of that, but students are always going to be welcome in London."