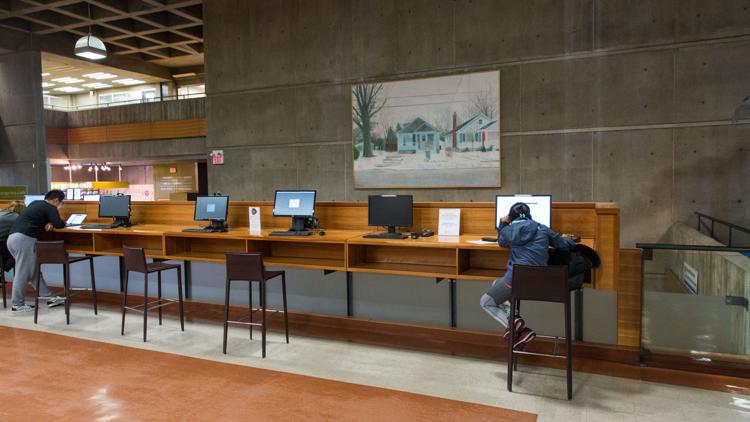 A woman was arrested twice last weekend for trespassing in D.B. Weldon Library.
A video circulating online late Saturday night showed her screaming while being escorted out by Campus Police officers at Western University.
Witness Rayanna Sawyer, a third-year political science student, said the screaming brought her up from studying in the basement of the library.
"It kind of scared everyone," Sawyer said. "When I was there, she was just screaming blood curdling screams for like five minutes straight and as she was being walked out. She kept saying 'this isn't fair.' "
For sound, follow this link.
According to J.C. Aubin, operations leader of campus police, both incidents involved a Property Act violation.
A similar incident occurred the following night at about 9:30 p.m., resulting in another arrest in Weldon as seen in the following video. Campus police confirmed that it was the same woman.
Nur Al-Ebeid, a third-year international relations student, witnessed SERT aiding the woman at around 10 p.m. following the arrest. 
"They were all just standing around her. Nobody was saying anything," Al-Ebeid said. "It seemed like a really uncomfortable situation."
SERT could not comment on this claim.
Amrik Kahlon, a security guard at Weldon, said the incident on Sunday resulted in the woman being taken to the hospital by paramedics. He said she sustained injuries from a fall during the arrest.
Kahlon said that this woman was disruptive for over a month. She would consistently stay after the library had closed and was a public nuisance according to security, resulting in several calls to security to ask her to leave. 
The Friday night before the arrests, campus police was called due to an issue concerning the woman. Police then told her that she was not allowed to come back to the library. 
Despite this warning she returned Saturday, prompting trespassing charges.
An article published by Weixin has circulated claiming that the trespassing was in regards to unpaid fines from the library. Campus police has stated that this was not the cause of the trespassing arrests but was unable to reveal the reason for the charges.