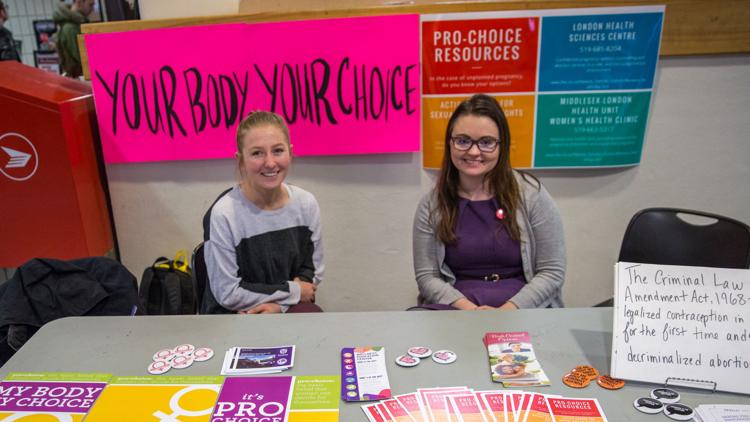 The Women's Issues Network and Pro-Choice London, ON worked together to set up a YOUR BODY, YOUR CHOICE booth in the University Community Centre today.
Robyn Schwarz, co-founder of Pro-Choice London, ON, runs a Twitter account that highlights and supports sexual health, abortion access and reproductive justice initiatives in London, Ont. Schwarz said the booth was all about empowering members of the community to know about what resources are available.
"Booths like this are very important because regardless of how you feel about abortion, we are here for you," Schwarz said. "Regardless of where your stance is, there is something for you here at this booth; we 100 per cent support you and your decision."
A pro-choice event has always been a part of WIN's plan, but today's event was organized, in part, because of this year's active anti-abortion group on campus, according to Maggie Sullivan, co-coordinator for WIN. 
"The Women's Issues Network wanted to run a pro-choice booth on campus to advocate that students' right to decide is going to be respected, especially due to the large pro-life presence that has been on campus," said Sullivan. "We wanted to make sure students knew that they had a safe place and that there was an organization there protecting their rights."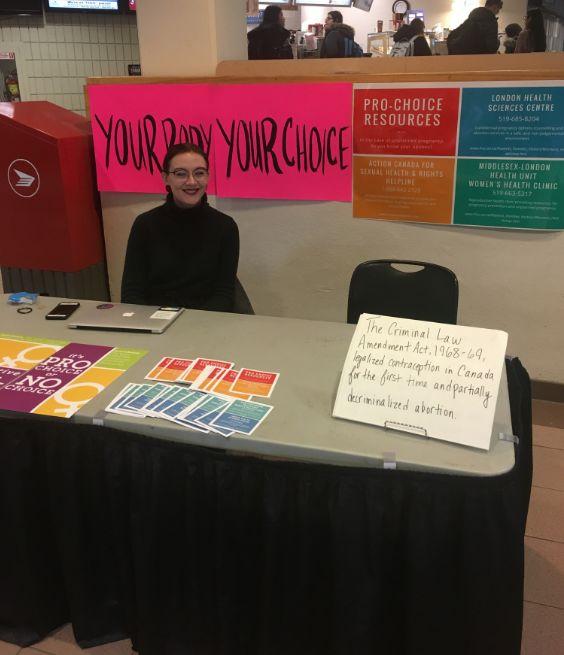 Previously, WIN has held many events to support women's rights, including their "My costume is not consent" campaign and booths educating students about violence against women.  
"It is built into our mandate to respect the rights of all students on campus, especially women," Sullivan said.
Overall, the reception from the community has been warm.
"We had a lot of students come up to us today saying how happy they were to see us here and how amazing it was to see this represented," Schwarz said.