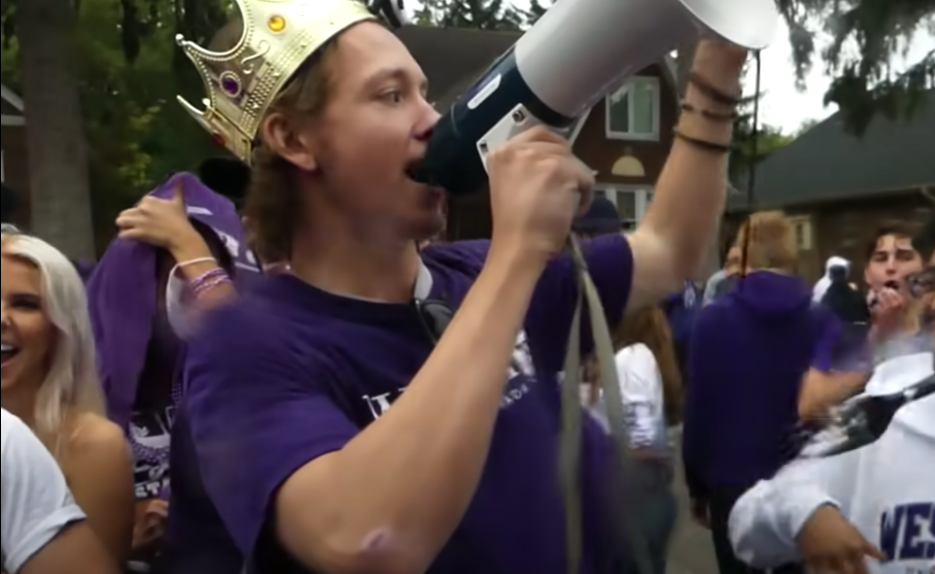 YouTuber Jack Denmo faces $1,300 in fines from Western's Homecoming weekend where he filmed the September street party for his social media.
Denmo tours university campuses and large campus parties to produce content on his social media platforms. YouTube is his primary focus, attracting 118,147,021 views over the course of his career. 
He was banned from Western University's campus in 2019 after complaints of disruptive behaviour when he filmed a Halloween video on campus and in Western's libraries that October. Denmo said he plans to fight the $1,300 in fines he received this year. 
"[The fines] are an attempt to discourage people from partying," Denmo said in an email. "It is quite ironic though because at Western Homecoming over 50 students came up to me telling me they chose Western primarily because of how fun I made it look in my videos."
Denmo received two separate fines on Sept. 25. He was fined $500 for walking down a "closed street" during a nuisance party and $800 for attending a "nuisance party," Denmo said in an email. 
The party was hosted by a fan of his, Denmo said.  
"A fan requested me to come into his house to see the keg he installed in his fridge and drink a beer," he said. "I then proceeded to do that, and then drink the beer on his front lawn. His house had only him and his handful of housemates inside."
London bylaw officers could not confirm what Denmo was fined for. 
The penalty for attending a nuisance party on Homecoming was $800 and $1000 for hosting. Fines could be doubled for repeat and subsequent offences, according to Orest Katolyk, London chief bylaw officer. 
September Homecoming partiers saw a total of 38 fines totaling $29,000 from city by-law officers on Broughdale Avenue and Huron Street, according to Katolyk.
Katolyk could not confirm the number of Western students fined as "educational status" which is  typically not disclosed when fines are distributed. 
But, one individual identified as a Western student was referred to the university Student Code of Conduct for penalties — which could include educational or disciplinary sanctions, like service to the university or wider community.
It's unclear what the student was charged with.
Denmo feels the fines are "bogus" and added that police officers on the streets never have issues with him "because they know I'm trying to help them." But, he said the city and the university take issue with him.
"I definitely understand the perspective of the city in trying to prevent injury, property damage and a riot, which is why I think police presence is a great idea," Denmo said. "I do have confidence in my ability to meet and speak with whoever necessary to sort this out and create solutions. I will dispute it." 
Homecoming weekend this September saw several hundred students and party-goers on streets that neighbour Western, like Broughdale Avenue and Huron Street. Many police officers were present on the streets to manage large crowds and prevent unsanctioned partying.
There were more police officers than students that Saturday afternoon on Broughdale and Huron, but Homecoming's Saturday night took a turn. Many students took to residential streets to continue the street parties at night — when the large police presence dispersed. 
Denmo has seen success with Homecoming videos on his Youtube channel in the past. His content on Western's 2019 Homecoming — which has been the largest to date — has accumulated over 700,000 views on YouTube. 
"At the end of the day, [police and bylaw officers] are just doing their jobs, and I respect them," Denmo said.