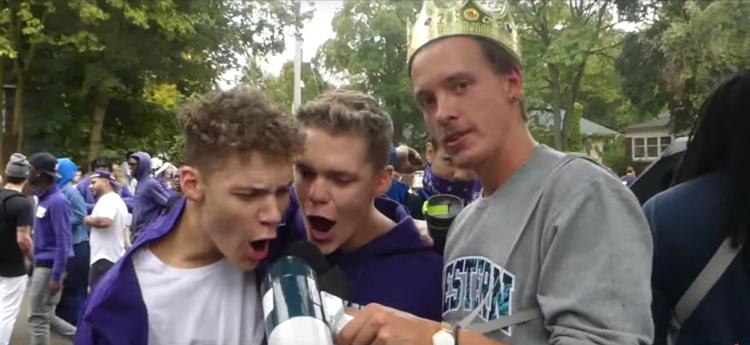 YouTuber Jack Denmo was banned from Western by campus police after students complained about how he allegedly acted while filming a Halloween video, which is set for release Tuesday.
Yesterday, Denmo posted on his social media accounts that the Ontario Provincial Police went to his house and his parents' over the weekend, informing them of the ban.
"It's no biggie — I'm confident I'll get unbanned in the near future," he wrote. "My life is epic and I love it."
The Ontario Provincial Police told the Gazette that they went to an address in the Hamilton area, where Denmo lives, to serve a trespass notice to a man named Jack Densmore. Neither the OPP nor campus police would confirm that it was the YouTuber who was banned, but Denmo's LinkedIn account is under the name Jack Densmore.
Campus police banned Denmo from Western University — as campus is private property the university controls — after "complaints of disruptive behaviour on campus on Oct. 31," an OPP spokesperson said. The OPP then went to issue the notice in Hamilton, as campus police could not reach the out of town address.
Dan Redmond, the director of campus police, did not confirm Denmo was banned. But he said that Western trespasses someone from campus "probably every day" for issues like open liquor or causing a disturbance.
If Denmo's past videos are any indication, the prank YouTuber could definitely have caused a disturbance at Western this Halloween.
Denmo — who could not be reached for comment — often films himself on Ontario campuses approaching young women with pick-up lines, interviewing groups on the street about sexual topics or shocking students on campuses with ridiculous antics.
"'THE NUN' Scare Prank At School!" is Denmo's most popular video at 9.5 million views. In it, he wears a Halloween mask of the monster from a horror movie and jumps screaming at students as they walk around campus — all while being filmed from a distance.
Denmo has nearly 400,000 subscribers, and his other most popular videos have been viewed millions of times.
He has often filmed at Western. Denmo recently stopped women as they walked around campus, flirting with them for a video titled "I Could See Us Together…" released Sept. 27.
It is unclear if the women featured in these videos are aware they are being filmed, or even if any of the encounters are staged, as prank or "social experiment" YouTube videos occasionally are.
Denmo has filmed similar videos across campuses in Ontario, and on campuses in the US. But many of his greatest hits follow a trend in schools around to Western: enormous, off-campus street parties like Fake Homecoming.
Denmo has filmed at Western's last two Fake HOCO events, interviewing partiers for an accumulated 43 minutes' worth this September. While filming, he passed through Broughdale Avenue crowds in a costume crown and was often flanked by student fans looking to appear  in one of his videos.