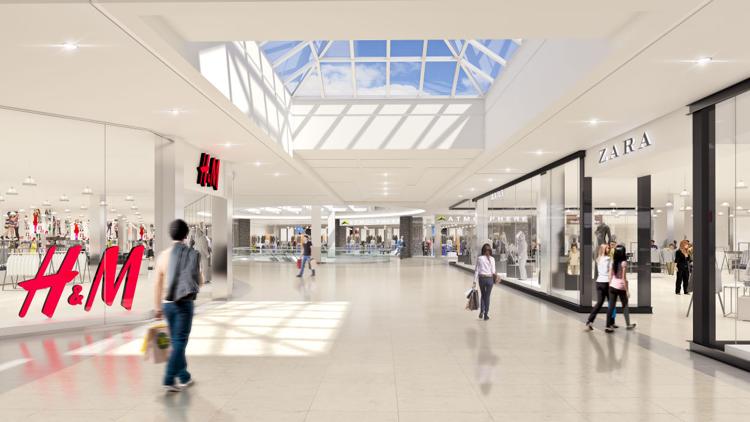 Masonville Place is getting a major uplift with a $77 million investment in renovations and introduction of international retailers such as ZARA and H&M.
The investment is the most expensive renovation conducted at the mall since it opened its doors to the public in 1985. The new investments were announced by Cadillac Fairview, the parent company of Masonville Place.
According to Finley McEwen, senior vice-president development at Cadillac Fairview, the renovations will reinvigorate the mall and update its current retail outlets and common spaces.
The renovations will see a new centre court staircase and installation of Italian porcelain tiles and stainless steel and glass guardrails throughout the mall. The goal is to keep the property relevant and provide customers a wonderful shopping environment, McEwen said.
The mall is being expanded into the two-level, 127,000 square feet space previously occupied by the Sears store which closed down in February 2014. The renovations and mall expansion are expected to be completed by November 2016, in time for the Christmas shopping season.
The new retailers that will be opening shop in Masonville include the first ZARA store in London, H&M, Sport Chek / Atmosphere, Hot Topic, a Disney Store as well as a few restaurants.
Alongside the ongoing redevelopment project, the mall has seen recent additions to its retail outlets including Sephora, Ivivva, Lush and Saje, according to Brian O'Hoski, general manager Masonville Place. 
Having a potential client base consisting of university and college students is an attractive prospect for some of the big retailers coming to the mall.
"I think we need to think about our customer base and ... some of the great tenants we were able to acquire … definitely have students at the top of their minds as well," O'Hoski said.
"Zara … [is] such a huge international retailer and the one and only in London I think is going to be a big draw for Western particularly."
While a number of Western students are excited about Zara moving to a close location, some have concerns about the price range of the outlet and also the number of students who'll be shopping from the same choice of items.
"I'm excited about both of those stores coming to Masonville and I really do love the style options they have at Zara, however, I'm not too excited about every one at Western having the exact same clothes," said Victoria Tran, a third-year medical science student. "I feel like Zara only being at a couple locations near Toronto was a good thing — well, for Torontonians at least."
Savannah Hamelin, a second-year MIT student, is excited about H&M opening up in Masonville.
"I'm excited for H&M to come to Masonville so I don't have to travel across town to White Oaks," she said. "I feel indifferent about Zara though because it's slightly out of my price range so I most likely will not be shopping there anyway."
Hamelin and Tran both agree that the new renovations and additions will drive more students to the mall and may even increase business for other retail outlets.
"Since Zara and H&M are popular and recognizable brands, they definitely have the potential to attract more Western students to Masonville," Hamelin said. "Plus, Masonville is closer to Western than White Oaks so placing them at Masonville targets Western students more specifically."
Masonville lost another big retailer after Sears when Target closed down its operations in Canada earlier in 2015 and the mall was left with a second, large unoccupied space.
McEwen said that the $28.5 million is being invested in the former Target space for redevelopment but there are no details available yet on what is being planned for that part of the shopping mall.