Rebekah Rodrigues, News Editor​ ​ ​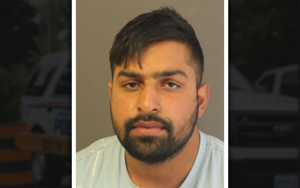 Saranjeet Singh was released on bail Nov. 5 and was taken into police custody again Monday as a suspect in the assault of a 28-year-old woman.
Saranjeet Singh, who is charged with criminal harassment of multiple young women in London and near Western University's campus, will likely be deported from Canada.
Singh, a 22-year old London resident, plead guilty to six counts of criminal harassment on Thursday, more than two months after his most recent arrest.
According to a lawyer for the prosecution in Singh's case, his sentence will likely result in "significant immigration consequences." Singh is a foreign national with temporary status in Canada in the form of a work visa.
The 22-year old was first arrested in early October 2021 for following three Western University students on campus and two other women with his car. After being taken into custody, he was released by police.
Singh was arrested a second time in late October for reportedly harassing a 21-year old woman near Western's campus. He was released on bail a week later.
Singh was arrested a third time for harassment and on an assault charge in November after grabbing a young woman near Adelaide Street and Commissioners Road. After being taken into police custody, Singh was released once again.
It is unclear if or when Singh will be removed from the country.