Rania Osman, Managing Editor​ ​ ​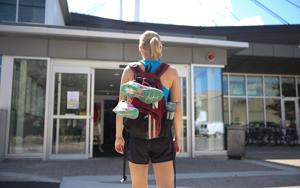 A student about to enter the Western Sports and Recreation Centre, Feb. 9, 2017.
Aaron Mallett / GAZETTE
Western is planning to reopen campus recreation centres and sports facilities to students this fall under strict health guidelines.
Western University's sport and recreation services announced Tuesday that reopening will be gradual, starting with outdoor fields and the TD Stadium which will be available for bookings Aug. 4. The Western Student Recreation Centre and Thompson Arena will open Sept. 7 for students only.
Faculty and staff will be given access later in the year.
The changes will follow provincial health guidelines, with reduced capacity and a "robust" cleaning protocol, according to Western's reopening plans.
Students will be required to book workout sessions in advance, ranging from 45 to 75 minutes, and machines will be spaced out to maintain two metres of distance.
Western said they are still working with the Middlesex-London Health Unit, London's local health authority, to determine if students will be required to wear masks while working out.
The Rec Centre expects to maintain regular hours, but will need time for cleaning between scheduled workout blocks. Washrooms will be available but showers, change rooms, lockers, equipment rentals, towel service and massage therapy will be unavailable until further notice. 
Western will be offering a hybrid approach, "to service both students on-campus and students studying remotely," with both in-person and virtual group workouts.
Students experiencing any symptoms of coronavirus or who have been in contact with someone who has are asked to stay home.
Western is set to announce further details about booking reservations and health precautions in August.