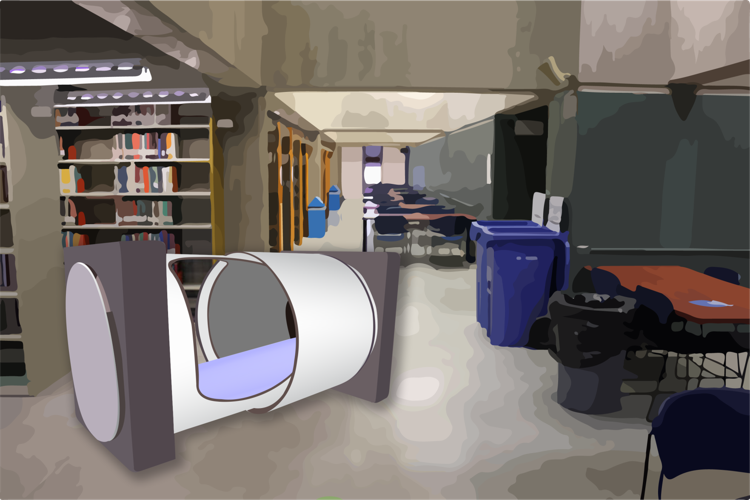 Nap pods can be brought to Western, if students try hard enough. 
"We're asking the community again 'what are you looking for in your space?', and if students come back and ask us to consider sleep pods, just like any other service, I'm sure we would," said Jennifer Robinson, Western Libraries' associate chief librarian.
Out West, students can forget about falling asleep on their books — British Columbia Institute of Technology's library just got nap pods. 
By nap pods, I mean 120 centimetre bunks that look like giant, space-age capsules. Students slide onto an interior vinyl mat, shut the door behind them, and snooze. Afterwards, they're expected to wipe the pod down.
While campus napping areas have been known to encourage more than just sleeping in the past, the British Columbia Institute of Technology's sleep capsules discourage hanky-panky: only one sleeper is allowed per pod, staff members sit 15 feet away, the pods aren't sound proof and they're under video surveillance. Besides, the university's already had an incident-free squash-court-turned-nap-room since January. 
So how about nap pods at Western? 
Robinson said she's worked at Western for 15 years, but the University has yet to seriously consider providing sleeping spaces for students.
"Anything that we bring into our spaces is based on feedback that we get from our users," she said, explaining Western Libraries conducted a student and faculty survey last year. "The area where we received the most comments was space, and there were maybe one or two comments about sleeping spaces. What students did say they wanted was more quiet, private study space."
Although if Western students do decide they want nap pods, a nap room or hammocks strung between the stacks (I kid), Robinson said Western Libraries will conduct a master space plan this year, and it's a great time for students to pipe up.