"Who ya lookin' at?!" is the look students get from Western's local campus bullies — the Canadian geese.
But there's one school out there that has found an Orwellian way around the two-winged pestilence that almost every Western student has had an experience with.
The University of Waterloo keeps track of geese on its campus via "Goose Watch" — a website with an interactive map that tracks goose nests at the school. 
It's during the nesting season in spring that the geese earn their reputation for bad behaviour, as the birds can be very protective of their young. Since the Waterloo website's launch in 2013, the site has been averaging 3,000 to 6,000 page views in each year's eight-week nesting season.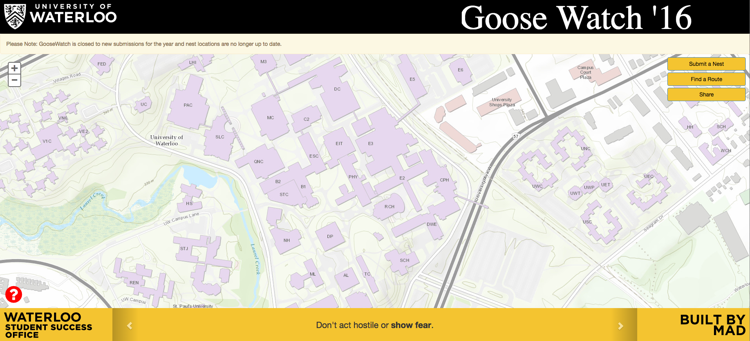 The website was developed by James McCarthy, a geospatial applications specialist in the Faculty of Environment at Waterloo.
"It was pretty organic, and mostly a social media thing," said McCarthy of the website's success.
After its launch, the website was originally promoted by the University's Student Success Office, but the rest was up to word of mouth. 
The website started as a Twitter trend, a hashtag that listed different nest locations that students encountered on campus. The popularity of the trend interested the school, and a static map was formed on the school's Open Data website, which was the inspiration for the website developed by McCarthy.
With Western's own vibrant goose population, some Western students have expressed interest in a similar website for their campus.
"I'd probably give it a shot," said Michelle Amponsem, a first-year BMOS student, citing her distaste for the birds that make UC Hill look like a goose version of Osheaga.
As at Waterloo, some Western students are interested not because they fear the birds, but due to its strange concept.
"That's hilarious," said Zoe Yang, a first-year BMOS student. "I would probably download it just for jokes, just because it seems like a funny website. But I wouldn't download it because I'm actually scared of where they are."
Western currently has some precautions in place around geese, but nothing compared to Waterloo's digital system.
Mike Lunau, Western's manager of Landscape Services, said that if aggressive geese are reported, the areas around their nests are marked with a sign but nothing else is usually done.  
But not everyone sees the need for a website. Andrew Pham, a second-year BMOS student, said that the geese on campus have bothered him in the past, but that it wasn't enough of a problem to use the website.
"I don't get nervous unless they're like right in front of me, but then I can just walk around them," he said.
The website requires some users to report nest locations. McCarthy said that only one per cent of the website's users do, so a website at Western would also need a small number of reporters who keep the map updated.
McCarthy added that, overall, the website is low maintenance, and the only work anyone does in upkeep is in approving the nest locations that are reported in the nesting period.
Whether Western develops a map or not may depend on student and administration interest — in the meantime students continue to negotiate their way through the rough geese neighbourhoods.