Op-Ed
Civility and Manners
"Good manners are an attribute and an indicator of a mature personality because they demonstrate adult consideration for our fellow human beings."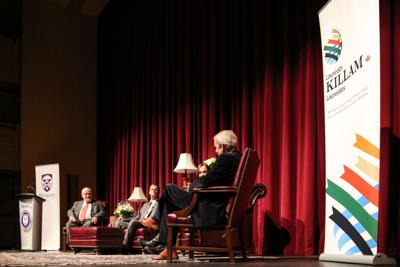 . . . little, nameless, unremembered acts
Of kindness and of love . . .
– William Wordsworth, "Tintern Abbey"
The recent rise in rude, insulting, disrespectful, and sometimes hateful language and behaviour in the political and social realms (and, sadly, at some Canadian universities) should make all of us at Western — students, staff, and faculty — grateful for the high level of civility that exists on our campus. Nor should the enormous value and importance of that civility be underestimated, for civility – "behavior or speech appropriate to civil interactions; politeness, courtesy, consideration" (OED) – is a reflection and a manifestation of good character and a cornerstone of civilization.
The once-popular saying "Manners maketh man" may now seem hopelessly "old school" and gendered, but it nevertheless touches on an important truth.  The manner and style in which we conduct ourselves — our manners — are a big part of our identity and a bigger part of the way in which we are perceived.  
Good manners are an attribute and an indicator of a mature personality because they demonstrate adult consideration for our fellow human beings. As Alexander McCall Smith has Isabel Dalhousie observe in The Sunday PhilosophyClub, manners depend "on paying moral attention to others," which involves treating others with "complete moral seriousness" and trying to "understand their feelings and their needs. Some people, the selfish, ha[ve] no inclination to do this, and it always show[s]."
Good manners do not come naturally: they are taught and learned and practiced until they come to seem – and are – natural. In Il Libro del Courtegiano (The Book of the Courtier), the Italian humanist Baldassare Castiglione identifies good manners as a crucial part of what he calls sprezzatura – the casual grace and charm of the courtier. As such, good manners are a reflection of the self-confident poise that puts others at ease and encourages their own sense of self-worth. They are the opposite of affectation or pretension, which are always inauthentic and often aimed at establishing superiority over others by making them feel inferior.
One of the strongest claims for the importance of good manners has recently been made by the French philosopher André Comte-Sponville, who argues in his Petit traité des grandesvertus that politeness is the starting point and foundation of moral development: "To act well at first means to do as is done (politeness); then it means to do what ought to be done (morality); and finally, it means to do what one wants to . . . provided one loves (ethics)."
Properly understood as deeply moral and humanizing, good manners are certainly crucial to all respectful relationships between and among people, not least relationships between men and women. In Sir Gawain and the Green Knight, the Green Knight's seductive wife observes of Sir Gawain that he is "stout enough to constrain with strength" anyone, female or male, who would be "so ungracious as to begrudge [him] aught," and he replies that "threats never throve among those of [his] land, / Nor any gift not freely given...." Like his rejection of "threats" and "gift[s] not freely given," the tact and good manners that Sir Gawain displays towards the lady as he politely refuses her inappropriate advances are part of the chivalric code by which he lives.  They are also barriers to verbal and physical violence for the obvious reason that they help people to control their tendencies in that direction and they encourage others to do the same.
Oscar Wilde once remarked that "good manners are a weapon to keep fools at bay."  But as has already been seen, they are much more than that: they are part and parcel of what makes us adult, moral, graceful, gentle – gentlemen and gentlewomen. To allow a door to slam shut in someone's face, to flame an acquaintance in an e-mail, to play loud music in public, to yell obscenities at a party, to use a steak knife to cut the delicate flesh of a fish is to align yourself with violence. The hidden council of good manners is that, while gentleness is preferable to violence, force may sometimes be necessary to curb violence, but should be used as sparingly and as briefly as possible.
Few people have understood the political importance of good manners better than the Canadian poet and constitutional expert F.R. Scott.  "The first to go are the niceties, / The little minor conformities," he wrote in the wake of World War II; then
Soon kindling animosities
Surmount the old civilities
And start the first brutalities.
Then come the bold extremities,
The justified enormities,
The unrestrained ferocities.
Far from inhibiting forceful resistance to the things that Scott lists, good manners demand it because in politics as well as individuals they are an embodiment and enactment of "the old civilities."
Sometime before he was sixteen, George Washington compiled for himself a list of "Rules of Civility & Decent Behaviour in Company and Conversation." The first of these is "Every action done in company, ought to be with Some Sign of Respect to those that are Present." Others are "Sit not when others stand," "Affect not to speak louder than ordinary," "If any one come to Speak to you while you are Sitting, Stand up."  
Several years later, as Commander-in-Chief of the Continental Army during the American War of Independence, Washington stood up in another way and, as he modestly told Congress, did the "the work assigned to [him]."  He then resigned as Commander-in-Chief, demonstrating in doing so his wise conviction that a country's armed forces should ultimately be controlled, not by military leaders, but by a duly elected civilian.  Perhaps the greatest tribute to the importance of his resignation came from none other than his political adversary George III, who wrote that it made Washington "the most distinguished character of the age."  Washington and George III stood on either side of a political divide as wide as the Atlantic Ocean, but they both understood the importance of "paying moral attention to others," and acted accordingly.
So, long may the "niceties," the "little conformities," and the "old civilities" continue to thrive at Western.
---
David Bentley is a Distinguished University Professor at Western. He is the Carl F. Klinck Professor in Canadian Literature, Fellow of the Royal Society of Canada and Fellow of the Royal Society of Arts.  Bentley is the founding and continuing editor of Canadian Poetry: Studies, Documents, Reviews and the Canadian Poetry Press, and the Director of the Canadian Poetry Project. He was a winner of the 2015 Killiam Prize for his distinguished career.