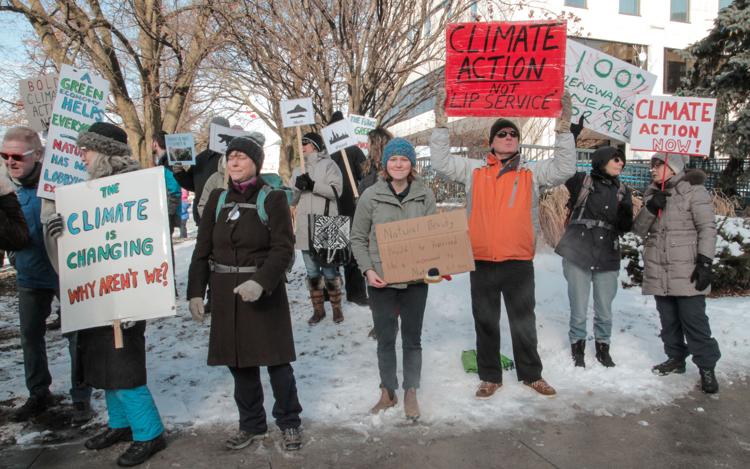 We are living in a climate crisis. As the California wildfires and other catastrophes have shown, there is a steep human cost to inaction. 
Climate change is no longer a problem of the distant future — its consequences are with us today. Given the urgency of this challenge, we must act as quickly and ambitiously as possible.
Public institutions like Western University have a responsibility to be leaders on climate change, which is the defining challenge of our time. Western has already made some progress in reducing its carbon emissions, but it is still falling short of several key sustainability targets. This is unacceptable and we need to do better. 
Over the past year and a half, Envirowestern, Student Energy, the Wildlife Conservation Society and other student clubs have come together under the shared goal of immediate climate action. We created the Climate Crisis Coalition to ensure that sustainability receives the institutional attention it deserves. 
As outlined in Western's 2012 plan for Creating a Sustainable Western Experience, the university aims to be "leading the effort to build a sustainable society." 
In some cases, they're succeeding. Over the past decade, Western has made great progress in modernizing some of its infrastructure, and has become home to world-leading sustainability research centres.
Unfortunately, there are many areas where Western's performance continues to fall short. The university's most recent sustainability update was published six years ago, and Western's carbon emissions rose by 10 per cent between 2012 and 2018, rather than declining 15 per cent, in-line with the 2012 goal. 
Western has not come close to meeting its stated goal of being a zero-waste campus by 2022. Recently, Western signed a charter on sustainable investing, but its endowment fund remains invested in major fossil fuel companies. 
Given that our university has been unable to meet its past sustainability targets, we believe Western must renew its commitment to reduce its carbon footprint and integrate sustainability throughout all institutional policies and procedures. 
The Climate Crisis Coalition will be hosting a campus-wide town hall at 7 p.m. Thursday with registration online. We will discuss Western's performance in an open, public forum, and identify areas for improvement. Western is falling behind, but together we can be part of the solution.
— Gareth Gransaull, fifth-year international relations and Ivey Business School student and member of Western's Climate Crisis Coalition
---
The Western Climate Crisis Coalition is a group of student clubs and organizations seeking to declare a climate emergency and push for immediate climate action at Western University.