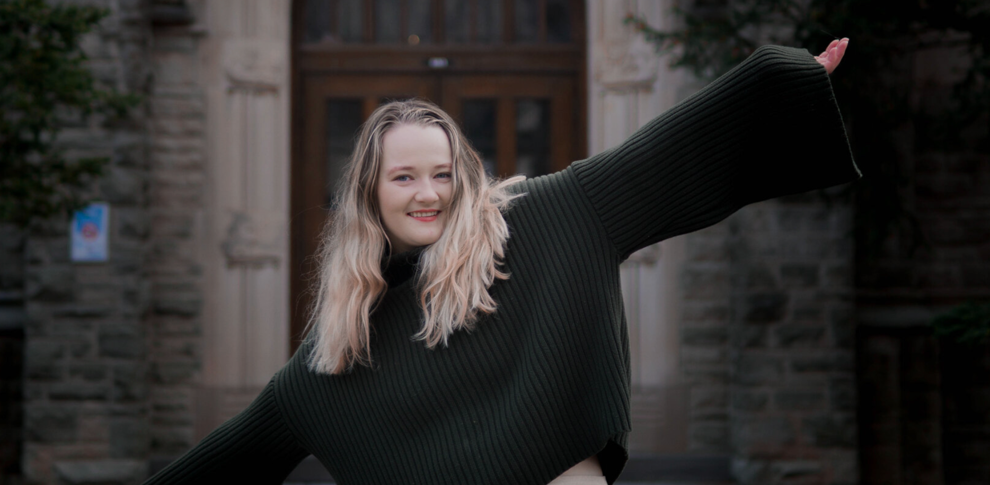 Candidates faced some of the USC's most fraught issues to date this year, from Zoom university to addressing systemic racism on our virtual campus — all while trying to run Western's first-ever fully-online presidential campaigns. The situation seemed grim, yet all three stood up to the challenge.
But, one candidate stood head and shoulders above her counterparts.
The Gazette's editorial board voted to endorse Callista Ryan with a landslide 14 votes. Three votes went to Zamir Fakirani and one to Parker Thomlinson with no abstentions.
Ryan came to the table with a campaign designed for the post-pandemic world. Her well-researched and novel platform addresses inequities highlighted by the coronavirus and has grounded plans to address them.
An unassuming but powerful advocate, Ryan's plans revolve around supporting advocacy efforts already happening on campus while bringing new ones to the table. Her platform prioritizes bringing those closest to issues — such as Ethnocultural Support Services and student climate clubs — straight to the bargaining table and giving them resources to continue their fights.
In her platform and conversations with the Gazette, Ryan is transparent and knowledgeable about the limits of the presidency, though this has not stopped her campaign from setting goals that push beyond the University Students' Council status quo — such as with her plans to advocate for police reform both on and off campus. The majority of her campaign promises are achievable but she still leaves room to grow and aims higher than those before her.
The strength of her fellow candidates' campaigns has made Ryan's performance all the more impressive.
Fakirani's student engagement is commendable, as he directly reached voters over Reddit, Instagram Live and Facebook. He's an engaging speaker with a talent for holding a crowd and clear advocacy chops.
But while his push for advocacy is admirable — and we know that student advocacy works — it takes time and the USC can only afford so many stop-gap solutions in the interim. Fakirani's 43-page platform brings a lot of ideas forward, but, the sheer volume of advocacy promises will make it hard to address them all — or will result in the executives spreading themselves too thin and making negligible gains on each pillar.
Thomlinson is also a broadly experienced candidate and his campaign is likely the most feasible of the three. But while his platform may be sound, it remains limited — there is nothing notable Thomlinson offers that Ryan doesn't, with more well-backed research behind her. Thomlinson simply does not aim high enough for himself — Western University students deserve more than a "feasible" year.
Ryan's campaign is also not without its faults. Her plans to make Western subsidize USC ancillary fees to pay for new initiatives is one of her more unreasonable goals. The university insists it has been hard-hit financially by the pandemic and seems unlikely to cough up more cash for council's ancillary programs. 
Though this was a primary funding method outlined in her platform, Ryan demonstrated in interviews, debates and town halls that she has solid contingency plans, ranging from cutting down more expensive campaign promises to diverting funds from bloated expense lines, allowing her to realistically keep ancillary fees low.
Ryan ran a down-to-earth and genuine campaign to reach voters, in-line with her role as an associate vice-president in the USC's communications portfolio — which has reformed itself into a central part of council's operations this year. This is an approach she will hopefully take with her if she wins the presidency.
All candidates put forward strong campaigns this year — if this were an ordinary election season, any of the three would have been stand-out contenders. But, in this year of top-notch campaigns, Ryan struck a Goldilocks balance between feasibility and pushing the USC beyond its status quo.
---
Editor's note on the endorsement process
The Gazette's editorial board met with each presidential candidate for a 30-minute question-and-answer period from Jan. 27 to 28. Each candidate answered three predetermined questions asked by the Editor-in-Chief, followed by open questions from the editorial board. Candidates were not told the questions beforehand and the meetings were off-the-record.
Following the question-and-answer period, the editorial board discussed the merits of each candidate and their stance on important campaigns issues. Eighteen members of the Gazette's editorial board then voted in a blind ballot for any of the candidates, to not endorse or to abstain from voting. One candidate needed a majority of votes for the Gazette to endorse.
This endorsement was written by the Editor-in-Chief and the Coordinating Editor of News and Opinions. It was edited by the Managing Editor and Senior Copy Editor to ensure it accurately reflected the opinion of the editorial board.