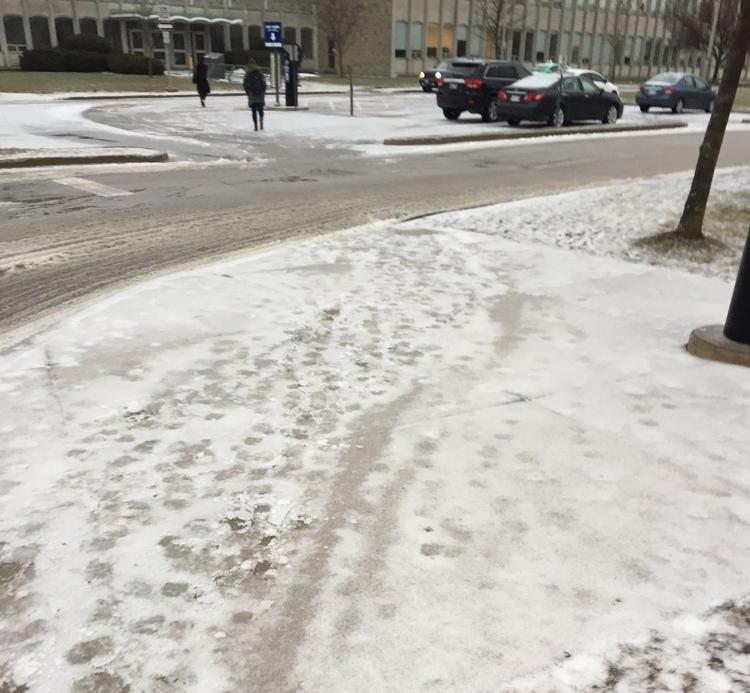 On Wednesday morning, during an ice storm, Western students slid their way to classes on unsalted walkways and sidewalks. As students struggled up hills for attendance marks, many flocked to Twitter, asking the university why they had stayed open amid safety concerns.
The university's response was initially a defensive one, simply reminding students to be careful. It wasn't until students sent hundreds of complaints via social media that Western University finally cancelled classes. But the way they dealt with the issue caused more problems than it solved. 
At 12:19 p.m., the university sent out an official email informing students that classes were cancelled and that all buildings would be closing at 12:30 p.m. This email gave students little time to pack up their things and find a way home, kicking thousands of students out of buildings all at once. For the most part, students were forced to pick between three equally unsavoury options: waiting for a bus, walking along ice or calling an Uber (with surge pricing) or a taxi.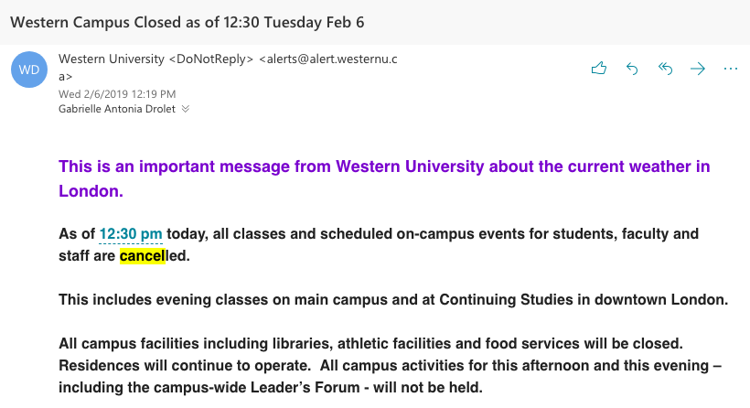 Given the sheer number of students all seeking busses at once, the London Transit Commission was swamped, unable to provide transportation for every student who needed to leave. The ice caused severe delays, leaving students waiting for a way off campus. Additionally, drivers were left trying to leave campus at the same time.
The decision to close the university itself was a safe one. Once Western realized just how dangerous the conditions outside were, it made sense to encourage students who hadn't already gotten to campus to stay home. But closing buildings and sending students home with little notice was a harsh and reactionary response that put students at risk.
Moving forward, Western should find a better system to dictate whether or not to cancel classes in the face of poor weather conditions. As of right now, their approach to student safety seems equal parts disorganized and self-interested, with the decision to close campus only occurring because of backlash from the community.
Whether this means improved communications with Environment Canada, a review of their current policies, connecting with other universities to learn about their approaches to weather-related issues or a blend of all three, Western needs to reconsider its handling of dangerous weather conditions.
The reality is that on the day of the ice storm Western shouldn't have opened in the first place, especially when the campus itself hadn't been properly salted. But once it did close, the school should have paid attention to its students and what they needed to stay safe — because getting kicked off of campus didn't seem to help anybody.