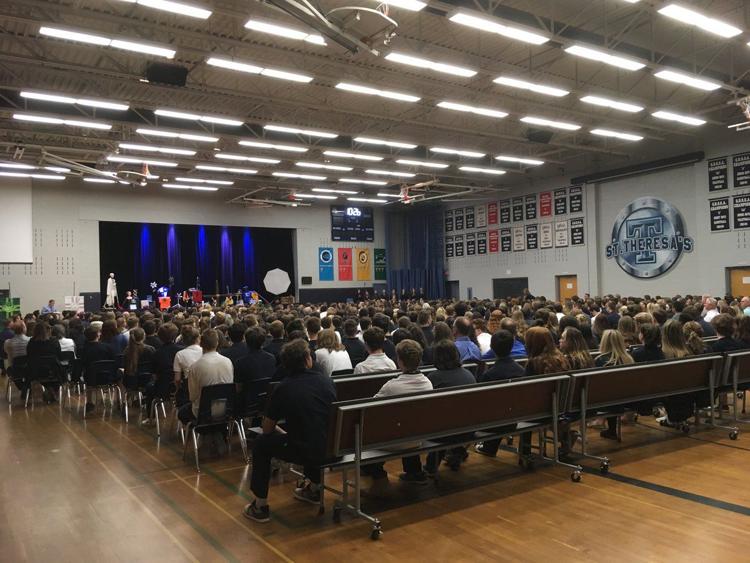 A principal and a vice-principal walk into a high school classroom and ask uniform-clad female students to stand up. As the boys watch, the principal ensures that the females' skirts are long enough for the school's dress code. As he measures the skirts, he tells the young women that they're putting male students and faculty in an uncomfortable situation.
This situation is, undoubtedly, uncomfortable for everyone involved — but it seems especially humiliating for the female students being shamed in front of their peers. And while it might sound outlandish, it actually happened at a high school in Midland, Ont., on Oct. 22.
If there's one thing that seems more inappropriate than skirts hiked up above a school uniform's required length, it's the way this situation was handled. But this isn't the first time Canadian high schools have struggled with enforcing dress codes. In 2015, both a Moncton and a Toronto high school faced public backlash because of the way they treated female students for dress code violations.
The endemic mishandling of dress codes seems to raise a lot of questions about whether or not they have a place in high schools at all. And the reality is that they probably do. The issue with dress codes aren't the restrictions themselves; on paper, the idea of ensuring that students are dressed appropriately for their environment seems important. The issue is that when these dress codes are enforced, those in charge of defining appropriate versus inappropriate attire tend to target and single out female students.
There are ways to address dress code violations without shaming female students in front of their peers. Students could be pulled aside and talked to privately, or given warnings rather than suspensions and public humiliations. But the way dress codes are currently being handled seems to disproportionately impact female students and often instills sexism rather than simply calling for appropriate attire.
In shaming females for being "distracting" to males or making them feel uncomfortable, school officials perpetuate a culture in which women are deemed responsible for the actions of the men around them. Beyond humiliating and sexualizing female students, the way these dress codes are enforced strengthens the idea that "boys will be boys," which loosely translates to "boys are incapable of controlling themselves around women, and women should adapt to that." Instead of teaching boys how to behave, school boards underestimate boys' ability to learn how to be respectful, putting the onus for respect disproportionately on females.
As of right now, dress codes are slanted in a way that often impacts and regulates female students more than their male counterparts, which isn't fair to anyone. They underestimate male students and create a culture of blame and humiliation for female students. If schools want to enforce dress codes, they need to do it equally.