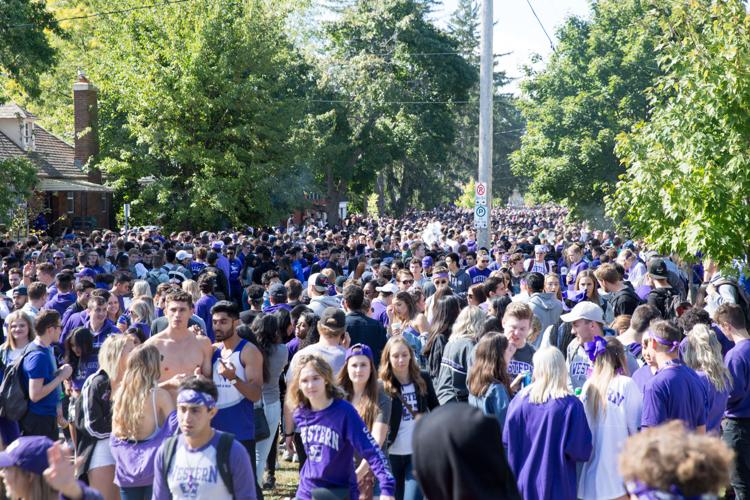 Students will be getting up earlier than they would for classes to celebrate what might now be a Western partying tradition. But they're not the only ones getting ready.
The London Police Service will be up early too, along with the fire department and paramedics. They will all be descending on Broughdale Avenue, but they won't all be there for a good time.
Fines for party hosts, online warnings from the police to Broughdale residents, surveillance cameras along the street, changes to the Student Code of Conduct — just a few deterrents the city, police and Western University will be using on Fake Homecoming. 
These measures are extreme, but there is reason behind them. 
Last year, 20,000 people showed up to the infamous street party. Police gave out 3146 warnings, the fire department planned to issue 300 fire code violations and 52 people were hospitalized. 
The city is rushing into these drastic measures while simultaneously dealing with real emergencies on Broughdale. 
There are dangers of drunken partying, and to Broughdale's enormous, unbreakable crowds. The overwhelming majority of students will leave Broughdale with little more than a headache and good memories — but too many will leave hurt. And the greatest danger, which we cannot ignore, is that someone doesn't leave at all. 
Whether you agree or disagree with the police's methods, they are acknowledging the problems students will face. Police's methods are, at least, designed for the most morbid possibilities.
But, do students care about all this? 
The measures taken to dissuade students from attending will stop some Broughdale residents from throwing parties, but it seems too many non-residents don't see the danger in just attending. 
Partiers need to be prepared for the worst-case scenarios. 
Fights, assaults, overdoses — these are rarely things that people plan. Sometimes, you can get caught in them without any bad intentions. And it could be someone else's choices, not yours, that end up affecting you the most.
But a first-year rescued by paramedics from a Broughdale backyard should not be scolded for "knowing better." Students should know better, but not all do.
Western's party culture has powerful pressure to fit in. It's the culture that we have to change.