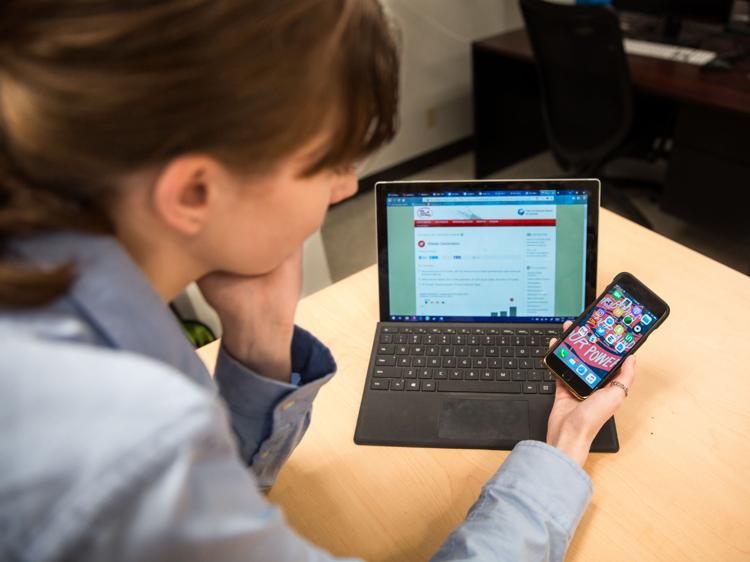 Bite-sized social media visits interrupt every study session, punctuating students' hard-fought attention with comforting, but costly, breaks.
Social media has granted students a bastion from their stressful lives, allowing them to chat with friends and peruse all manner of tailored content. In turn, it acts as a sort of coping mechanism for times when the to-do list runs long.
And while this coping mechanism isn't beneficial, it's also not surprising.
Students had already turned to their phones for entertainment, communication and nearly every other aspect of daily life, so when life became stressful, comfort was already at their fingertips.
With how prevalent cellphone and social media use is — and with how little education there is around such use — this coping mechanism has since become normalized.
The problem is that breaking the habit now is unrealistic because of this normalization, and students may find this exceedingly difficult without education on social media use. Social media use — tied inextricably to cell phone use — has become so ingrained in everyday life that cutting back, especially during times of high stress, may require too much effort. Quitting one without the other is virtually impossible.
But that doesn't mean students shouldn't try. Simply examining our social media use during periods of high stress may not solve the problem, but it certainly couldn't hurt; understanding how much time is lost to social media could go a long way toward addressing digital addiction.
However, recognizing our consumption habits may not be enough.
Social media apps are created from the ground up to form addiction through conditioning; from constant notifications to claustrophobic, content-dense pages, these apps reward users for as little as unlocking their phone and seeing that little Twitter icon.
Even adults can't withstand this highly precise attentional assault, and with social media use increasing among children and teenagers, something must change to ensure healthy social media habits among younger generations.
The corporations behind these apps have to take some responsibility for the addictions they've created, but what that responsibility would look like is unclear; their bottom lines rely on advertising, so social media platforms that harness more attention lead to bigger profit margins.
Since these companies aren't incentivized to change, there must be adequate education around social media use for those most vulnerable to their effects.
While more comprehensive mental health care education should be in place, targeted and mandatory social media-safety curriculums would address a serious oversight in a world where technology advances faster than policy.
High school students, and perhaps those even younger to keep up with changing usage trends, should receive standardized education on social media use, its potential benefits and dangers, and resources available to them if they should need help reducing their usage.
These curriculums shouldn't be anti-social media propaganda. Students, regardless of their age, have the right to choose whether they'll consume social media.
The current custom, wherein youth are indoctrinated into the world of social media before they can recognize its negative mental health effects, is creating a society of students who find both comfort and misery in the same device, even when they have better things to do — and that's a problem.