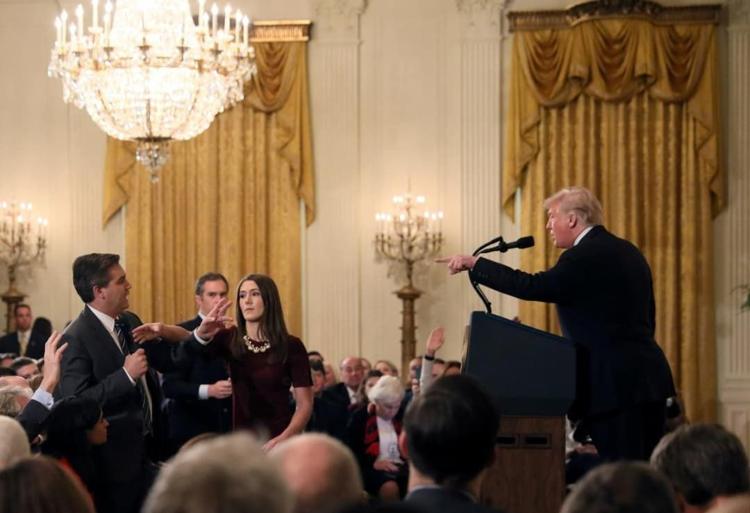 News outlets have a responsibility to cover politics.
Journalists have a responsibility to ask questions, to press politicians for answers and to hold them accountable for their actions. And politicians have a responsibility to answer. As democratically elected representatives, politicians need to speak openly to the journalists who work as liaisons between them and the public — even if they are uncomfortable with the questions being asked.
Unfortunately, a positive relationship is not being upheld between the American federal government and the media that covers it. This should not come as a surprise. From the beginning of his presidency, Donald Trump has shown open disdain for media outlets that have questioned his actions. But now, things are escalating in a legal battle that could change the way politicians and the media coexist: CNN is suing the Trump Administration for barring one of their journalists, Jim Acosta, from accessing the White House.
Jim Acosta is known to be one of the most aggressive and persistent White House correspondents, constantly pressing Trump with difficult and pertinent questions since his presidency began. Tensions escalated on Nov. 7, when the White House suspended Acosta's press pass because of an incident that occurred at a press conference that day. A White House staffer attempted to take the microphone from Acosta, who was asking questions even as Trump refused to respond. Acosta continued to question Trump anyway, leading the White House to accuse Acosta of being unprofessional.
This is a sharp and scary escalation in the tension between politicians and journalists, and the outcome could alter the way the media covers politics internationally.
If CNN wins, the lawsuit will be an important reminder that political journalists and the work they do is valuable. But if CNN loses, this might set a precedent for other politicians to ban or ignore the journalists that make them uncomfortable and to neglect to answer their questions.
Regardless of your personal opinions on Acosta or CNN, rebuking Acosta's press pass is an extreme example of rising tensions between journalists and politicians that is unfolding internationally. We even see it in Ontario, where Doug Ford shows clear disdain towards the media at press conferences. Beyond refusing to answer certain questions, "clap outs" have become a common occurrence at Ford's press conferences: Ford staffers loudly clap without stopping to drown out journalists' questions.
In barring Acosta from the White House, it seems as though Trump's administration is trying to make an example of him. While Trump might feel uncomfortable when his policies and views are questioned, barring certain journalists entirely is not an adequate solution.
Trump — and the other politicians who are following this lawsuit — need to remember that the relationship between the press and politicians is fundamental to a functioning democracy. Journalists have the right to hold their politicians accountable and to ask hard questions, and the public has a right to stay informed.