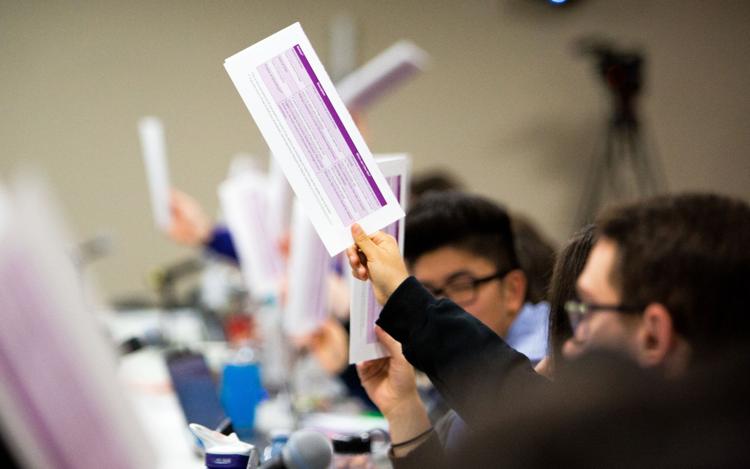 This time next year, the USC executive will have another face on its masthead — but don't expect to see any extra names on your ballot. 
The University Students' Council voted to split the role of vice-president in two last week. They'll have separate vice-president for both on and off-campus work. But, neither of these new roles will be chosen by students in February's general elections, after the slate system was changed in last year's Annual General Meeting.
Both VPs will be chosen internally by council, similar to the old selection of student programs officers.
It cannot be denied that the voting public now has less say in who represents them. Last year, two of five execs were elected. Now, it's one of six. 
These votes have moved to council. Who would have approved this change but council themselves?
The USC is claiming that these measures will strengthen the executive by spreading out its work across more people. This sets aside a whole role, the external VP, whose primary achievement would be winning another election — to lead the Ontario Undergraduate Student Alliance.
This year and last our VPs have won, but there's no guarantee for the future.
Splitting up the vice-president position will involve stripping down the USC's democratic process — and that doesn't seem worth it for a "maybe."
It's true that the people who fill the vice-president position need to be chosen carefully, given that they, often more than the president, are the ones getting into policy, forming external partnerships and getting into the bureaucratic side of the USC's work.
But of course, as students didn't pass this policy, council can only hope this is what students want — that their constituents would offer up their vote to a person they likely couldn't name.
Council has in the past shown willingness to put decisions directly to voters. Two years ago, the USC pushed the CHRW fee onto the February ballot; last year, they asked voters about the price of their health and dental plans.
Maybe the average student isn't the most informed about USC politics and many don't care to begin with. Just 24.3 per cent of eligible students voted in the last election. And even out of those who did, many cast their vote in favour of a friend-of-a-friend, rather than on a candidate's platforms.
Council has cast their vote against voting, and the power to shape the government has been largely passed to the government itself.
Council has shown it will ask voters about dollars and cents on their fees. But when their own position on campus is at issue, don't expect them to take the risk.
Update (Dec. 5, 3:57 p.m.): this article has been updated to clarify that the slate system was changed at last year's AGM, not simultaneously with changes to the vice-presidency.