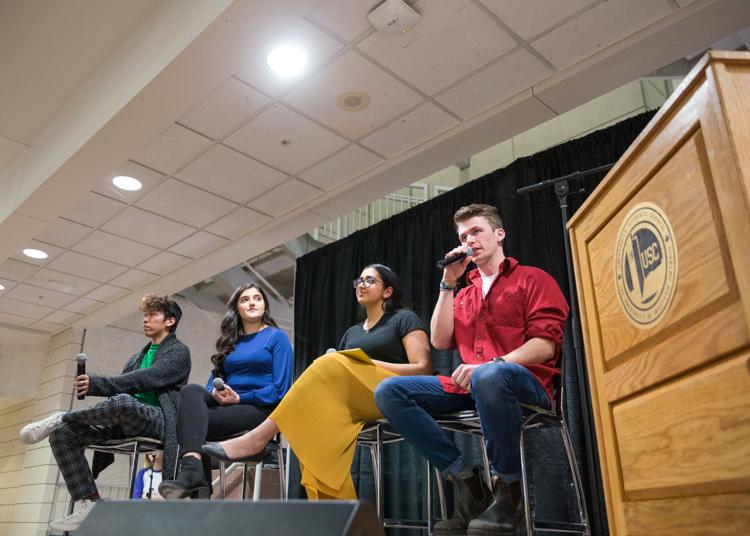 Voters deserve more than what they're getting this election season.
Following a dire year for the University Students' Council, it was hard to picture an uneventful election for its next leader. Candidates have to contend with complications to Purple Fest and Fake Homecoming, racism and sexism on campus and the existential threat optional fees have posed to student government.
But, as candidates have made their cases to the electorate, it seems a year's worth of defining issues have slipped by either unnoticed or dismissed. Only on issues of equity has the campaign been clear and energetic; but the president's duties stretch to hours and hours of work that the candidates have not addressed.
In a race with four candidates that have failed to distinguish themselves on key issues, and have ignored many of them altogether, the editorial board cannot argue one candidate is the clear choice for president.
Eighty-seven per cent of the editorial board voted against endorsing a candidate, and 13 per cent voted to endorse Victoria Barroso. As such, we endorse no candidate for the next USC president.
Despite these reservations, we urge every student to vote Monday or Tuesday — the USC is in too crucial a position to skip it. Though the editorial board feels it cannot highlight one contender, we are unanimous in the power of all of your votes.
---
Editor's note on the endorsement process:
All candidates met with the editorial board for a 30-minute interview, across Wednesday and Thursday Jan. 28-29. Members then debated their merits and cast an anonymous ballot for any one of the candidates, or to abstain from endorsement. To endorse a candidate, one candidate needed a 50 per cent plus one majority, as agreed upon by the board before interviews.
---
This campaign season has revolved around equity, inclusivity and representation. The scandal in November, an English professor using the N-word in a lecture, has been the jumping-off point for all platforms and plenty of on-stage discussions.
Undoubtedly, this year's candidates had a duty to bring forward real ideas about social justice, and they have. Students of colour have been misunderstood and hurt by decades of white leadership on campus — and it must be tackled now.
On this point, all candidates have been admirable and some have been inspiring. The editorial board wishes to highlight Aleesha Rehill for her clarity in debate and her platform, and Keenen Qin for his debate performances too.
But, on another aspect of equity, the shortcomings of this election are clear.
Sexism on campus has rarely been more public than in the lewd banners at this year's Fake Homecoming. While all candidates agreed on the representational value of electing a woman president, discussion has been scarce about the code of conduct changes aimed at sexism and sexual violence at Fake Homecoming.
No one discussed the information backchannel Western established with police, which was a transparent snub of the USC's role in handling the street party via the Broughdale Task Force.
Above all, students have seen no vision for handling the Student Choice Initiative. While the USC did survive one round of optional fees, this year's executive called it the greatest threat the USC has ever seen.
SCI was a burning hole in every platform and was invisible on the debate stage. The court challenge notwithstanding, the USC has already bled staff and services it must account for, and many students' enthusiasm in opting-out poses a serious ideological problem the president must answer.
Even with equity in mind, students should worry about opt-outs: the optional clubs administration fee supports organizations that represent students of every race; the USC's student refugee program is threatened; and community legal services, which can aid students with immigration, is exposed as well.
Simply put, a voter cannot properly select a candidate if their detailed views and plans about SCI are not public — and this is true of all four.
With all this uncertainty, the editorial board cannot confidently make a case that any candidate is the best vote. We know too little about where they stand.
Qin has shown himself to be an outstanding member of campus and its community. But, his platform is marked by a number of ideas that are untethered to the USC's political reality.
Rehill has proven to be the best speaker — honest, inspiring and miles better than the infamous tone of a careering politician. Students would respond well to her as president, which the USC desperately needs to increase engagement. But holes in her platform show less research and knowledge than some of her competitors.
Matt Reesor and Victoria Barroso are the race's insiders. Reesor's platform was detailed and offered many ideas that students should care about — his standout offering as a candidate. While Barroso's platform was weaker, she has experience Reesor lacks, as president of Western's second-largest faculty and two years of council experience before that. She has also consistently appeared the readiest in answering questions in debates and our interviews: it's clear she would be a valuable leader in a crisis.
Beyond the unaddressed topics this season, picking one candidate with what information we do have is shaky at best. Recent changes to the executive structure have stripped away a student's right to pick the vice-president, who can balance the president's strengths and weaknesses.
In past years, the editorial board has endorsed slates containing one candidate with a serious problem that we felt was offset by their slate partner. This year, the remaining six execs are a mystery.
Whoever wins, the true position of next year's president is a mystery too. We can only hope that questions the candidates have so far ignored are answered well when the winner controls our government.