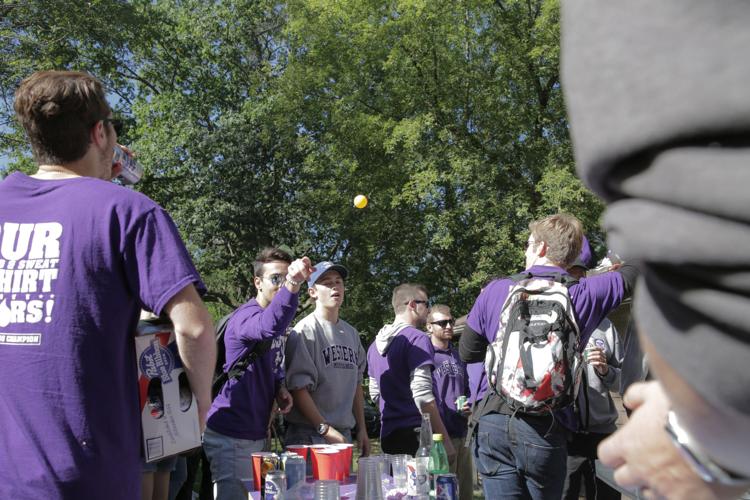 Two years ago, Western moved Homecoming to discourage students from partying in the streets.
So students partied harder.
FOCO, an annual street gathering to celebrate Western's original homecoming date, is proof that students don't want to be parented. And now, Western University is considering a new tactic to get students off the streets: sending them to court for public nuisance.
The idea is inspired by a Kingston initiative aimed at stopping Queen's University students from public partying. In addition to paying up to $10,000 in fines, Queen's students who are ticketed for disruptive behaviour must now appear in court to explain their actions. The pilot project strives to increase students' accountability. It will be implemented three times a year: Orientation Week, Homecoming weekend and St. Patrick's Day.
According to Keith Marnoch, director of media relations at Western, Western administration is closely watching the Kingston experiment to see whether or not it positively impacts blocking parties.
But it seems that sending students to court for public drinking and bad behaviour is a confusing step — one that might cause more harm than good.
Previous attempts at curbing Western's student partying and public disturbances were largely unsuccessful. Moving Homecoming led to more partying as emails from administration and police appeared largely ignored. Even the physical dangers of block parties, like injuries and alcohol poisoning, haven't deterred students from partying on the streets.
Additionally, there is already a risk of punishment for partying; last year alone, London police issued eight arrests, 11 charges, 50 notices and 969 warnings to students on FOCO weekend. Whether these will function as deterrents this year remains to be seen.
Making students explain themselves in person seems like a measure that will clog up court rooms rather than clear up Broughdale Avenue. With roughly 11,000 students flooding the streets for FOCO last year, implementing this policy and handing out court orders seems unfeasible. It's another measure that risks making students rebel rather than back down.
There are better ways to keep students off the streets than by sending them to court. For example, Western's University Students' Council has strategically scheduled Purple Fest on the same day as this year's FOCO. Lil Uzi Vert's performance, which has the potential to be Canada's biggest student concert, will draw thousands of students from Broughdale and onto campus. Further, London's police could be more rigid with fines rather than just implementing warnings. Financial stress on its own is a motivating factor for most students — court is unnecessary.
More than anything, Western and London Police need alternative solutions to get students off of Broughdale rather than attacking Homecoming culture. Playing parent isn't a feasible option.