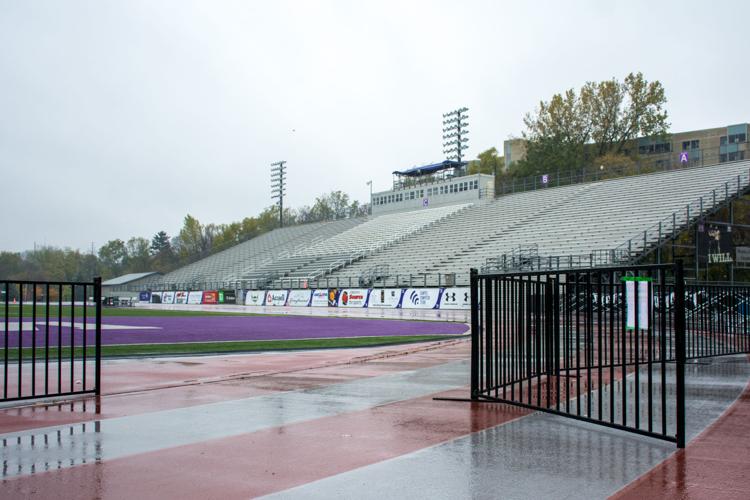 Western University's Student Experience department gave free food and drinks to Western students who showed up to last weekend's Yates Cup game and Saturday's Mitchell Bowl in an effort to combat low student turnout.
Poor student attendance is an issue that has plagued Western athletics for years. And if Western's athletic department can't catch the student body's attention now, with its football program on the precipice of 24 straight wins and a second consecutive national championship, they may never.
Western has long touted student experience as one of its primary attributes. Yet with empty bleachers and student disinterest rampant, one of the main features of university life has been left by the wayside. 
A part of each student's fees to Western goes to athletics on campus. The school's head football coach earns over $140,000 a year. Athletic operations at Western are big business, and the school has an obligation to bring attention to its teams and athletes to encourage student engagement.
Simply providing free food isn't the whole answer. Athletes and teams need to be promoted. Students need a reason to care enough to attend games, especially on cold Saturdays in the fall or on nights when they could be out partying at the bars or finishing up homework. The school needs to create a buzz around the teams through increased promotional material and marketing campaigns. The names of high-performing athletes should be far more common on campus, and a social media strategy bent on promoting these athletes could make it happen.
In a digital age where students can consume sports content from around the world, Mustangs athletics needs to set its games apart from the rest.
By highlighting the success of its teams, along with piquing students' interest with tailgating and entertaining in-stadium experiences, Mustangs athletics might be able to combat the general apathy of Western's student body.
Schools from across Canada are also facing this same issue, and a few have found ways to overcome it. Mount Royal University and the University of Calgary's annual hockey game at the Scotiabank Saddledome and the Panda Game between the University of Ottawa and Carleton University have become must-watch events between inner-city rivals. Perhaps a hockey game at Budweiser Gardens between Western and Queen's University, with the proper marketing centred around the history and vitriol of the rivalry, could become an event that Western students would actually attend. Schools like Brock University and Ryerson University have masterfully promoted their basketball teams, leading to large crowds and rabid fan support. In short, simply being a university athletic program in Canada isn't a death sentence. There is a possibility for success.
The onus certainly isn't entirely on the university. Local and campus media should tell the stories of Western's athletes and teams. Western students should try to support their classmates who are representing their school on the field of play. But at the end of the day, it's the athletic department itself that has to make people want to care.
This isn't all to say that Canadian university sports are broken. Unlike at the highest levels of American college sports, with its million dollar coaches and endless carousel of scandals and controversies, Canada has maintained a pure, amateur intercollegiate sports landscape, untarnished by money and power.
But it's important that, like other aspects of student life, an effort is made to maintain a supportive and robust environment for Western's varsity athletes to thrive in. The university has taken steps to address attendance issues, and hopefully they will continue to do so. You can't force students to care about things — it's up to the university to encourage them to.
Correction (6:49 p.m., Nov. 19): Paragraph one was corrected to indicate that Student Experience, rather than Sports and Recreation Services, funded the football games' food giveaways.