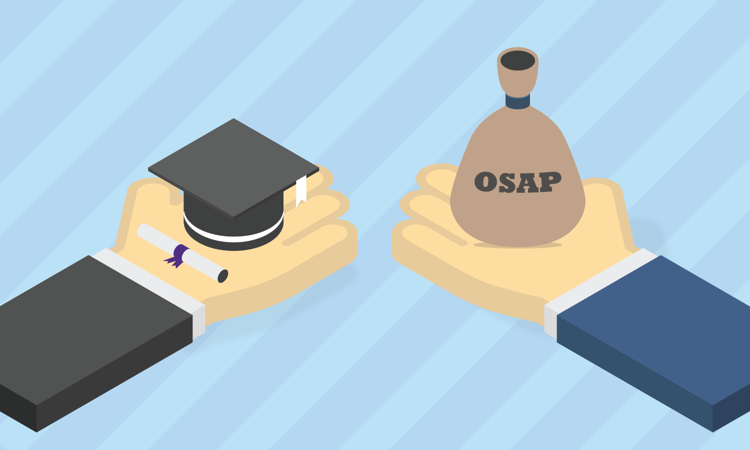 The Ontario Student Assistance Program has made strides in the past year. And while some say there's still a way for it to go, it's worth asking how far is too far. 
Deb Matthews, Ontario's minister of advanced education and skills development, stopped by Western University on Friday to discuss the new OSAP prgram with students.
The new OSAP provides free average tuition to students in low-income families. According to government officials, more than one-third of all full-time Ontario college and university students will receive free tuition this year. In London alone, that amounts to roughly 12,500 students.
However, there are caveats to the new OSAP program. For example, it doesn't consider parental debt load, and as students pointed out on Friday, the program also doesn't account for students who receive no support from high-earning parents. Further, the free tuition guarantee is based on average tuition costs for a two-term standard arts and science degree — $6,520 a year. More expensive programs, such as law or engineering, require students to fill out additional applications or rely on their school's financial aid office.
As these examples suggest, government policy doesn't encompass every person's circumstances: there will always be students who fall through the cracks. And while OSAP has room to improve — it could have a more readily available helpline for students, for example — we don't think it should be forced to forever expand to accommodate every "what if?" situation.
Further, the OSAP program must act as a blunt instrument for efficiency's sake. This year, around 384,000 full- and part-time students applied for OSAP. That's a mind-boggling number of applications that already requires a huge amount of manpower and resources. With that kind of annual traffic, it isn't feasible to expect the government to treat every student on a case-by-case basis.
Instead of looking for extensive OSAP changes, students should get more familiar with their school's financial aid office and assistance programs. As opposed to OSAP, Western's financial aid office has the flexibility and resources to help individual students figure out a financial plan. Moreover, Western partners with the Ontario government to deliver the Student Access Guarantee. Through this guarantee, Western states it will provide enough financial aid to cover students' assessed needs for tuition, books and mandatory fees, if these are not fully met by OSAP.
Obviously, there's always room for improvement. While OSAP forms are relatively easy to fill out, knowing how to complete the application and collect funds could be clearer. The point is, students shouldn't expect OSAP to be a one-stop shop for financial aid. It can't be, and there are other avenues to explore.