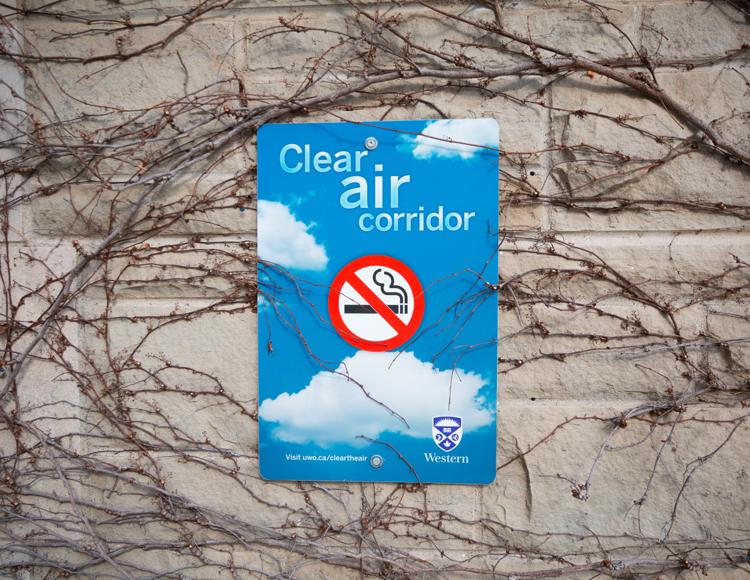 It says something that students will buy a Juul, without the nicotine, just to fit in at parties.
Vaping is cooler, cleaner and probably safer than smoking cigarettes — so they've become ubiquitous in student culture. But too many students think that "safer" means "safe."
Vaping has grown in popularity with young people. According to the University of Waterloo 22.8 per cent of Canadians between the ages of 15 and 19 have vaped, that number jumps to 29.3 per cent for Canadians aged 20 to 24.
Brands like Juul market their products to young people with a clean design and attractive flavours like mango and crême brule. It's easy to see why vaping lacks the social stigma of cigarettes.
Well-placed marketing campaigns from brands like Juul have turned that image into gold.
While it's true that vaping is probably a less deadly alternative to smoking, lacking the cancer-causing carcinogens and tar, it doesn't mean e-cigarettes themselves are safe. We understand cigarettes better because they have been around longer. Vape products are still new and, because of that, not really understood.
A whole generation in the mid-century smoked endlessly before the dangers of cigarettes were known. We should not repeat their mistakes. We need to look beyond the marketing and pay attention to the potential impacts — one of which could be our health.
Since April the US has been documenting cases of an unknown vaping-related lung disease. There are now over 380 confirmed cases of the disease in the country with seven deaths confirmed so far. The victims have mostly been men with a median age of 19.
And as of Sept. 18, Canada has confirmed it has its own victim of the vaping-related lung disease: a high schooler from right here in London, who has since been released from hospital.
But advertising is powerful. We shouldn't think this kid came to a decision all on his own.
The government and our schools need to catch up with vaping. Advertising to children with candyland flavours has already been banned in New York; but the glaring, gruesome warnings we see on cigarette packs are a far cry from how Juuls are presented to the public.
Schools were where most of us first learned about the dangers of smoking. But nowadays the convenience of vaping makes it even easier for kids to hide, and easier to get away with.
Universities are not exempt either. While adults are free to make their own choices, Western University already recognizes the difficulties of nicotine addiction — nicotine supplements to ween off the drug are covered under the student health plan.
Young people need to slow down the racing growth of Juul and vaping to understand what we're doing. We don't know the damages, we haven't regulated the product properly and yet we see the vapours everywhere.
Vapes aren't cigarettes, but they're a drug. A really addictive one. So while we can be happy fewer people are burning tar into their lungs, we should be skeptical that companies have found a more marketable way to package their nicotine.