As students drag themselves to the start of another school year, many are met with an all-too-familiar problem — whether staff they need will be on campus for work.
The University of Western Ontario Faculty Association, representing the school's librarians and archivists, walked away from the bargaining table and approved a strike position last week, leaving those who rely on the library's services in limbo.
This is Western University's fourth large-scale labour dispute in less than two years.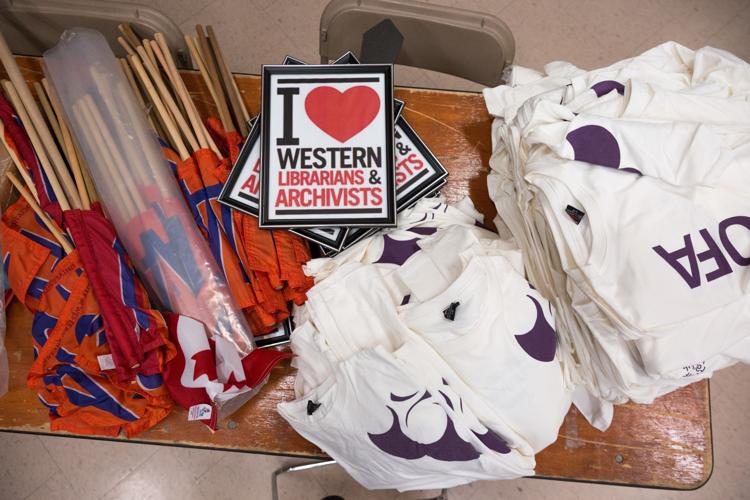 Many students remember last fall's faculty contract negotiations, which lasted until 2 a.m. the day faculty members could legally strike.
Shortly after that, Western quashed residence advisors and dons' efforts to unionize, arguing that the students were not legally "employees." And in spring 2018, the union representing Western's TAs and post-docs approved a strike mandate when their contract negotiations went sour.
Needless to say, the trajectory of the current negotiations has been nothing new. Contract negotiations at Western have become a game of chicken between unions and the university — with students caught right in the middle.
This is how the story goes: Western and a union can't agree at the bargaining table, the union starts mentioning a strike — and the groups delay their agreement, waiting to see how much the other will give up. Both want to avoid a strike, but neither want to leave empty-handed. So, as time ticks by, each makes sacrifices.
This waiting game not only fosters bad relations between the university and their staff, but creates a culture of stress and uncertainty for students. 
Students found themselves in a grey area during last year's faculty negotiations: many undergrads skipped readings, slept through morning classes and even failed to study for upcoming midterms. They assumed they'd have time during the strike, which probably seemed inevitable. 
While these students should have been prepared for class, some of the blame must fall to the negotiators putting students in this position.
Union negotiations should not be a time of fear and stress for students. Students' grades hinge on the bargaining table as well as the faculty's paycheques. 
But lengthy labour disputes are not only a Western problem. We've seen this recently with the Ontario government's drawn out negotiations with teachers. 
Western should be leading the charge for better negotiations, setting an example for the future employers who attend this institution. Western should work with collective bargaining organizations for the benefit of their staff, rather than fighting them. 
Because, so far, Western has been unmoving in bargaining with its staff. Recently, Western stopped a union from even forming: their dispute with residence staff was not just over pay, but over their very right to organize.
This history could be why UWOFA-LA said Western "has shown an unwillingness to make any reasonable proposals", and why the union suspended its bargaining.
It feels like both sides are stuck in disagreement — with students getting caught, again and again, in the crossfire.