It came to me as a surprise that my GTA union, PSAC 610, participated in a protest alongside Canada's Young Communist League against Premier's Doug Ford "freedom of speech" policy in Ontario universities. A communist organization fighting for human rights, in my mind, is akin to the National Socialist Party of Germany protesting against anti-Semitism. Those things contradict each other.
As an international PhD candidate at Western University, I notice that people in Canada often see communism differently than I do. I was born in Ukraine shortly before the fall of the USSR. My birth certificate has the hammer and sickle — a symbol of the regime and ideology that killed and tortured millions in my country and all over Europe. I remember the hungry years of the 1990s, but I also remember stories about man-made famines of 1932-33 and 1946. My grandmother had 12 siblings. We do not know what happened to 11 of them, or to their parents. In Orwellian terms, they were "evaporated," either in war, famine or the "meat grinding" machine of Stalin's secret police. What we do know is that my grandmother lived through the famine of 1946. She worshipped food until the day she died; she was terrified that food could run out.
Canadians hear a lot about the Holodomor, Stalin's man-made famine in Soviet Ukraine, but they do not seriously reflect on it. As if this was a sole crime of communists. Let's remember the 10,000 Polish officers, the intellectual elite of the nation, that the Soviet army interned in 1939 and then executed in Katyn. Let's remember the Soviet-Nazi alliance in the beginning of the Second World War and how it affected Eastern Europe. Let's remember the peoples that were completely deported by Stalin throughout the war: Crimean Tatars, Armenians, Greeks, Bulgarians, Meskhetian Turks, Chechens, Germans and many others. These were acts of elimination. Crimean Tatars were not allowed to return to their homeland or even to be called "Crimean" for almost 50 years! Communism, as a regime and ideology, deserved its own Nuremberg trial. In no way is this ideology better than German Nazism or Italian fascism. The West wants to think communism was better, because it allied with communists during the war.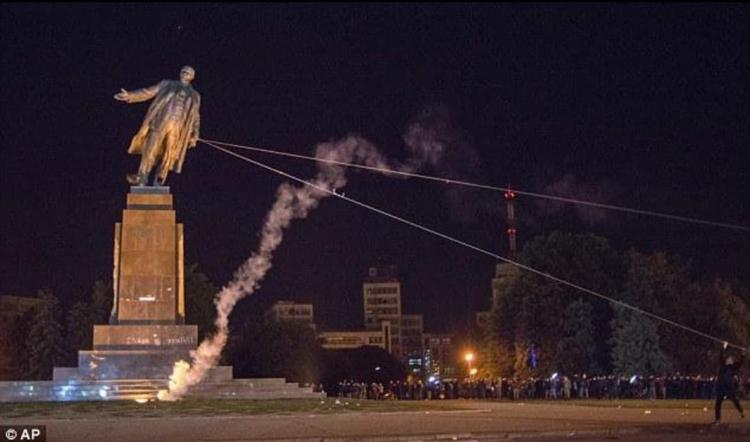 At the department of history at Western, we are taught, and teach our students, to be aware of socially constructed privileges and hierarchies and to challenge them. I believe that being a communist in Canada is a privilege. A person has to actively ignore the deadly legacy of communism to embrace it. It feels no different to me than the men who ignore their own privileges to support incels, radical communities who treat women as sexual objects and contribute to a society that endangers women. To say that "we accept there are things that didn't work out in the past [my emphasis], and we are learning from this," to put it mildly, is a hypocrisy. Ironically, the YCL member who said this to the Gazette during the protest failed to call those crimes by their name, never mind learning from history. How would they react if a Nazi organization started talking about "better Nazism" that "fixed" past "mistakes"? 
I supported the human rights protest on campus that happened in late November. However, to me, fighting for human rights can not happen alongside a communist flag. As a member of PSAC 610, I strongly condemn any cooperation between this organization and the communist movement. Exactly five years ago, I spent days and nights on Kyiv's Maidan square, protesting against a dictatorial regime in my country. During that protest, we were often ready to sacrifice ourselves for democracy, freedom, equality and human rights. Many people gave their lives on that square. Many continue to do so in a war of independence against Russian imperialism. When we overthrew the dictator, one of the symbols of our victory, a victory of democracy over autocracy, was a removal of Lenin's statues across Ukraine, a removal of statues of a tyrant that forced our nation into communism.
Fighting for human rights alongside the proponents of ideology that is notorious for violating human rights goes against logic. It also directly contradicts the very goal of the protestors and narrows the circle of potential participants. Unfortunately, recent protests in London and on Western campus did not happen without the red communist flags.
- Maksym Sviezhentsev, PhD candidate, department of history