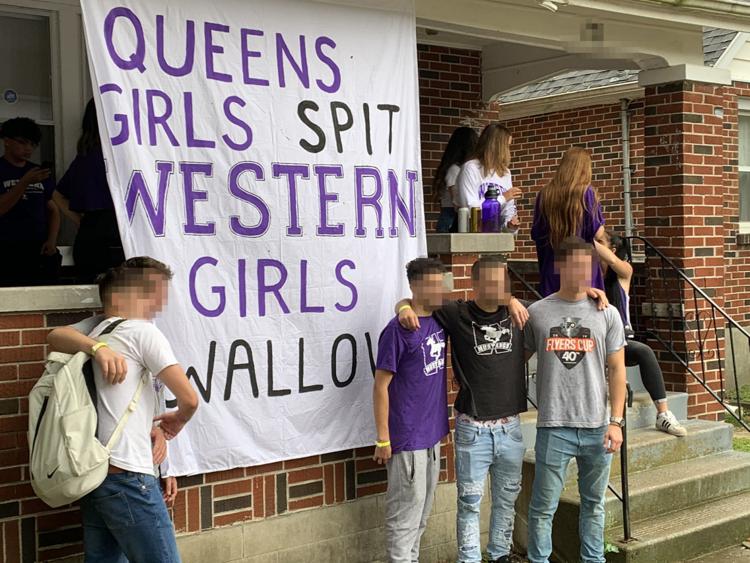 Another semester, another boilerplate response from the university pertaining to misogynistic behaviour.
This latest Fake Homecoming joined two apparent Western University student traditions — making controversial banners and misogynistic behaviour. 
The banner tradition goes back to the first Fake Homecoming, where photos of affluent-looking white men under a spray-painted banner reading "Western Lives Matter" (co-opting the anti-racism/anti-police violence movement Black Lives Matter) caught national attention. 
This Fake Homecoming, banners containing degrading language towards women were proudly displayed on the front of houses, using font changes and multiple colours to really drive the point home. These banners, and the students who posed for photos in front of them, have been dismissed as "kids being kids," and that it was all about rivalries between schools. Harmless, really.
There are many inherent problems with these hand-waving dismissals of this problematic behaviour. The first and foremost being how dangerous it is to continue to normalize and minimize this behaviour.
Another is that these "kids" eventually leave Western, taking these ingrained attitudes with them. This has been demonstrated when the university brings alumni back and gives them a microphone.
Almost a year ago, Western invited Aubrey Dan to speak at convocation for graduates receiving degrees after years of hard work. Dan decided that this was the time to cite an old Playboy article as part of his reasoning for attending Western, and then reduce the women in attendance to their appearance. The non-apology from Dan was "I am sorry that anyone was offended by the comments in my speech."
The university issued a boilerplate comment.
In June of this year, Stephan Moccio was honoured with an honorary doctorate and a chance to speak to the convocating class. Moccio opened up with an apparent fond memory of seeing a sign when pulling off the 401 to begin studies at Western. The sign read, "Thank you fathers for dropping off your virgin daughters." Moccio later double-downed by singing a little ditty about an all-female dorm and oral sex. These were the takeaway memories from years spent at Western. Again, the university issued a boilerplate comment, and then moved on.
This latest Fake Homecoming has once again resulted in the university, through the President Alan Shepard, issuing another boilerplate statement. This one distanced the university from the "unsanctioned street party,"and the "upsetting," banners on display, then patted themselves on the back for all the "progress this year." 
But this is clearly a problem that goes back decades, and if progress has been made it's not visible to anyone seeing these banners being proudly displayed.
During street interviews conducted by the London Free Press, students attempted to dismiss the Fake Homecoming banners by stating that similar banners are displayed at other universities. But what other universities do is not important here. 
No one is going to be proud attending a university that accepts misogynistic behaviour because it's the norm. Or waits for other universities to lead the way before attempting something. Or just washes its hands of the behaviour of its students under the guise of not officially sanctioning the event.
This isn't to say all of the responsibility in preventing this behaviour lies with the university. Certainly, many factors went into the creation, display, and photographing of those banners. Hopefully, somewhere deep down the students who made those banners had a voice that said something was deeply wrong. The current party culture surrounding the university and Fake Homecoming allowed them to ignore that voice. However, Western is in a place to act, to listen to experts, survivors, and students, and become a driver of change amongst the student population.
The students that think this behaviour is harmless will carry that mentality well beyond the years spent at Western. Unless the university starts some proactive measures to combat this mentality that is pervading the student body. 
This could be an opportunity for Western to be innovative and a trailblazer in an extremely important area, while making campus safer and more welcoming for all students.
Like a University should.
— Garret Munch, PhD candidate, chemical and biochemical engineering