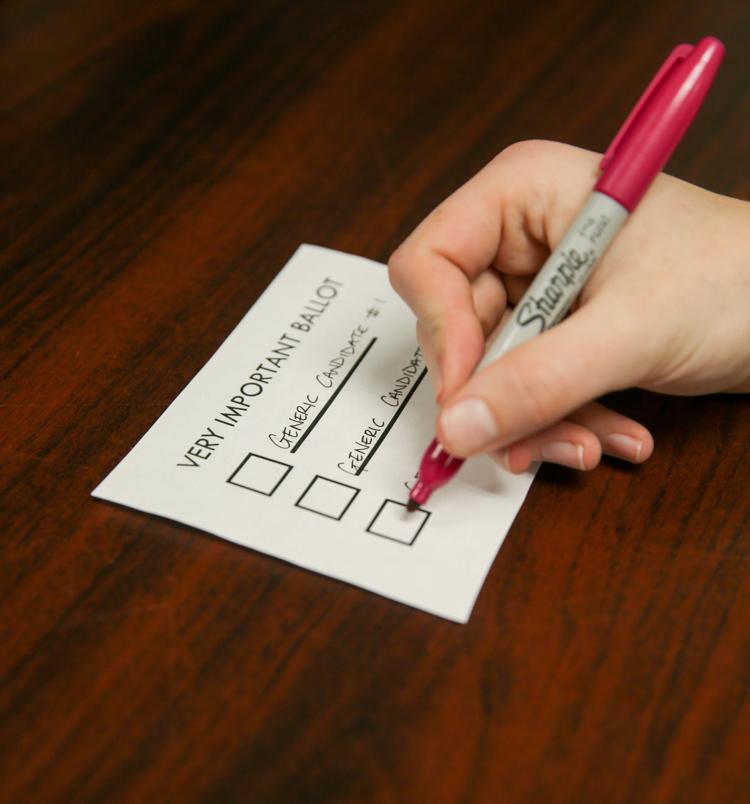 In the 2019 USC elections, 8,020 students placed their ballots. 32,995 were eligible. That means only 24 per cent of us voted. Last year, even fewer of us voted: only 22 per cent. 
Participation in the annual University Students' Council elections hasn't peaked above 30 per cent in over a decade, although the USC plays a crucial role in shaping our student experience, from Orientation Week to Purple Fest concerts. I'm worried about voter turnout this year, particularly because the elections will be fully online for the first time. 
Many students haven't even heard of the USC — I admit we do a pretty bad job of communicating our services, programming and advocacy. But if you've ever eaten at The Spoke, used the health plan or tapped your student card to ride the bus, you've used a USC service. 
The USC also advocates for students within the university and across the city, province and country at large. Recent USC advocacy efforts with the Undergraduates of the Canadian Research-Intensive Universities contributed to April's $9-billion federal support package for students, including the Canada Emergency Student Benefit and the Canada Student Service Grant.
You might say: "Well, Zamir the USC is already doing so much and I'm satisfied with the services I'm receiving. Why vote?" And to that I'd say: because the USC is constantly evolving. 
Student leaders' terms last one year and every year the council sets news priorities. The best way to ensure the USC is fighting for the issues you care about is by electing students who share these priorities to office. Sure, there are other ways of communicating with the USC, but voting is definitely the easiest, least emotionally exhausting and most consequential.
If that doesn't convince you, I'd encourage you to vote because you already have a financial stake in the USC's operations. Both main campus and affiliate students paid around $1,000 in ancillary fees to the USC this year. Since you're paying into the system, you should have a say in how your money is spent.
USC budget talks tend not to involve public consultations and rely on the perspectives of elected council members alone. So currently, the operations of the USC only reflect the will of 22 per cent of the student body. The other 78 per cent have less say in how the USC's budget is allocated and what programs are funded. Sounds unfair, right?
Why is this year's election especially important? Because we, as students, have been increasingly organized. From demanding anti-racist action from the university administration to more tangible climate action from the university, students have been louder than ever about what they need for their student experience to be the best that it can be. 
Black students and their allies' demanded anti-racist action on campus this year, which resulted in Western University hiring its first special advisor to the president on anti-racism. Consider president Alan Shepard's decision to reinstate the President's Advisory Committee on Environment and Sustainability, which he announced two days after the student Climate Crisis Coalition voiced their criticisms of Western's sustainability record. 
If we keep this momentum going, who knows what next year could bring for students.
"But Zamir, the USC can't actually implement substantive change!" I disagree; as a $30-million institution which represents the voices of over 30,000 students, when the USC talks, people listen. The USC has power and it can serve your interests. You just need to make sure that the student leaders who represent you are acting in your best interests.
Whether you vote or not, the USC will continue programming, advocating and existing. The difference your vote makes is personal — it ensures the programming and policy the USC implements represents you. 
So, if you care about addressing racism on campus, vote for a candidate who shares that priority. If you care about Purple Fest coming back bigger than ever (once it's safe to do so), vote for a candidate who feels the same. If you think our degrees cost too much, vote for a candidate with a vision for a more affordable education.
The student leaders I've worked with at the USC genuinely care about making our campus community a better place. The USC and your councillors are there to represent you. So go to your calendar app and make a note to vote on Feb. 1 or 2. I promise it's worth it.
— Zamir Fakirani, fourth-year politics, philosophy and economics student and Social Science Students' Council president