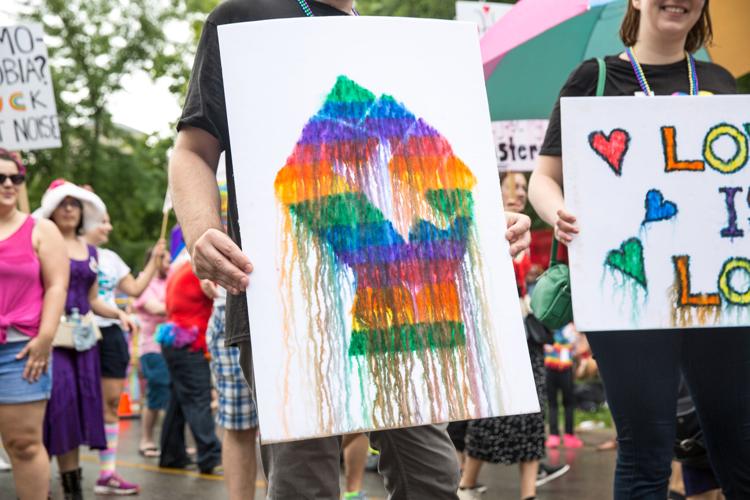 It is no surprise that with the chaos of the coronavirus pandemic, Pride Month looks different this year. 
Rather than big rainbow parades and festivals around the world celebrating the LGBTQ2+ community, many pride events are being held online instead for people to access in quarantine. 
As someone who came out as bisexual not too long ago, I was so excited to attend and wave my rainbow and bi flags — feeling that sense of belonging as I marched with people like me. After attending Western's Pride Ball and Spectrum UWO's club events, I knew how good it felt to let loose and celebrate with a community that loves you for exactly who you are. 
I am privileged to have family and friends who now accept me for who I love, but the majority of my LGBTQ2+ friends often have to hide who they love and who they are from their families and friends, something that can really take a toll on a person. This makes Pride events even more special for them as it provides a safe and supportive space to truly be themselves.  
So even though many pride organizations have made adjustments to their celebrations to make them accessible online, virtual Pride Month sadly just doesn't feel the same. 
Virtual Pride events just don't deliver that same sense of support, community and belonging that in-person ones do.  
But even though we can't all celebrate together in-person, there are still ways to honour Pride Month this year. The recent death of George Floyd and the increased awareness of the Black Lives Matter movement is not only bringing people together to protest police brutality and systemic racism, but is also forcing people to look more at the history of LGBTQ2+ oppression. 
After all, it wasn't that long ago that when it was illegal to be gay and police officers would target and arrest people in gay bars. 
With strong LGBTQ2+ activists like Black transgender drag queen Marsha P. Johnson, who led the Stonewall riots against police and fought for gay, transgender, Black and women's rights, it is now legal in many parts of the world to be who you are and love who you love. 
So sure, I could be upset that I don't have the chance to be a part of an in-person pride celebration this year, or instead, I could focus on coming together to support the rights of the Black community, who fought for my rights decades ago.
— Anika In't Hout, fourth-year, media, information and technoculture and creative writing