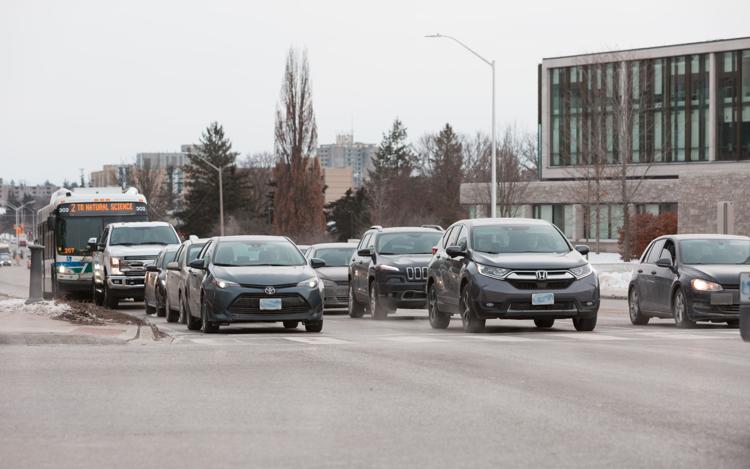 As we rapidly approach the first day of winter and the roads get more slippery, London drivers don't seem to be slowing their rapid pace on their own volition.
There's a reason sophs and residence staff try to ingrain in first-year students' minds to obey traffic crossing signals and be cautious when they're crossing streets during O-Week — traffic in London is fast, reckless and often goes undisciplined.
I have lived in four different locations in my five years at Western University — University Drive, Sunset Street, Richmond Street and Mill Street — and being concerned about the speed of traffic has been a constant.
I've spent five years being worried about my safety while walking to class, to the bus and to visit friends.
Students aren't the only ones at risk. Traffic in London poses a risk to everyone — pedestrians especially.
Just yesterday I saw a senior nearly get struck by a speeding pickup truck as she neared the end of a crosswalk downtown.
To their credit, London's city council is trying to fix this problem, albeit only after rejecting Bus Rapid Transit initiatives that would've helped much more.
City council approved a motion in October to reduce speed limits and install a photo radar system. Drivers will see speed limits on select streets across London reduced to 40 kilometers an hour.
It's crucial that student residential areas surrounding Western and downtown should be among the first areas to see this new limit implemented.
Of the nearly 31,000 full-time students enrolled at Western, many are pedestrians either on campus or surrounding campus.These students, at the age where they're statistically more likely to take risks, are frankly often running into streets when they shouldn't.
At a time when relations between Western students and the City of London are as fractured as they are, much of which stems from unsanctioned Fake Homecoming street parties on Broughdale Avenue and the anti-party bylaw, there is a unique opportunity to start building bridges.
I for one would love to see London Police demonstrating a genuine interest in protecting the safety of student pedestrians all year round, not just on the notorious Sept. 29 weekend.
It's about time the city started treating students like residents of this city.
Respect is a two-way street, one where I want to feel safe walking.
— Mitch Charlton, a fifth-year student, studies in advanced arts and humanities and media, information and technoculture