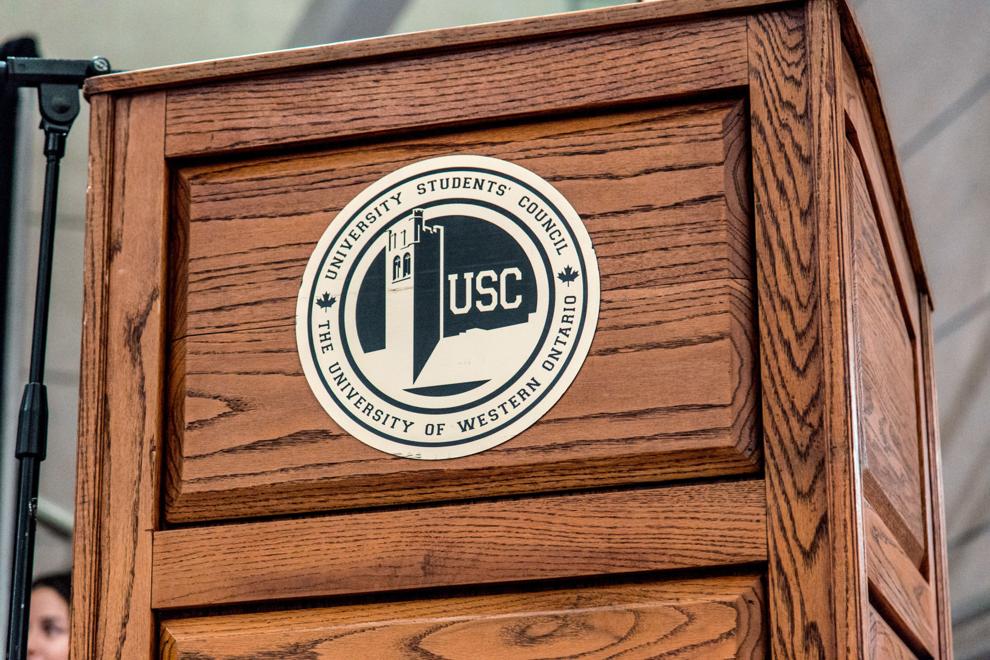 Editor's Note: An op-ed is an opinions piece submitted by prominent members of the university community. The opinions of the writers do not represent those of the USC, their faculty councils or constituents.
Western has a problem with rape culture. 
The events of this year's Orientation Week highlighted the prevalence of sexual and gender-based violence on our campus. This is an issue that disproportionately affects women. At a time when anti-sexual and gender-based violence advocacy is more important than ever, an all-male USC presidential ballot is deeply troubling. 
But if women are concerned about the lack of gender diversity, why don't they just run? After all, one user on Reddit pointed out, "candidates are self-nominated." 
The reality is, it's not that simple. 
Rape culture normalizes sexual assault, protects perpetrators and shames survivors, fostering an environment where women are subject to violence and harassment. The University Students' Council elections are no exception. 
The decision to put your name on the ballot exposes you to intense public scrutiny, particularly for presidential candidates. Faced with the possibility of aggression, ridicule and sexism, it is no surprise that no women are running for president in this year's election. 
Year after year, we see female candidates experience personal and gendered attacks.
In 2019, former USC vice-president Cat Dunne was singled out for her use of Bumble during the Bardia+Cat slate campaign. Although uploading a dating app profile is a common strategy for USC presidential candidates, when used by Dunne, Reddit threads criticized it as "a bad image." 
In 2020, following a debate hosted by the Arts and Humanities Students' Council, councillor candidate Eva Alie was dismissed as "over-dramatic." She was also relentlessly cyber-bullied and harassed for the similarities found between her and former AHSC president Jerika Caduhada's campaigns. 
In 2021, Callista Ryan, the only female presidential candidate, revealed on her Reddit AMA that she was told by the first man who knew she was running that she "wasn't popular enough and [she] would have no chance." She was also told that "another candidate would stomp all over [her]." Over the course of the campaign, her social media accounts were attacked by bots. The accounts of her fellow male candidates were not. 
In the same thread, Ryan stated that she felt "targeted and [...] alone." She rightly pointed out that female candidates typically face the brunt of cyber-harassment, a reality she said she was warned of by other female student politicians when she announced her candidacy. 
But this isn't a new phenomenon. In 1985, the first and only woman-of-colour ever elected for USC president, Sondra Gibbons, reported experiencing intense sexism and racism on the campaign trail. She was even accused of running "just to prove a point." 
Thirty-seven years later, what's changed?
Let's be clear, the issue isn't that this year's ballot is all men. It's the hostility and antagonism that female candidates and candidates from other marginalized communities face when they throw their hat in the ring for student council. It's a form of political violence and it's perpetuated by Western's rape culture. 
For more diversity in positions of leadership on the USC, both Western University and the USC must do better to empower and protect its marginalized students on campus. Without change, Western's rape culture will continue to suppress equitable participation in USC elections.
---
Nika Bajaj, is a third-year political science student and Social Science Student Council president. Katie Campbell, is a third-year political science student and USC associate vice-president student experience. Sara-Emilie Clark, is a third-year political science and English student and Social Science councillor.