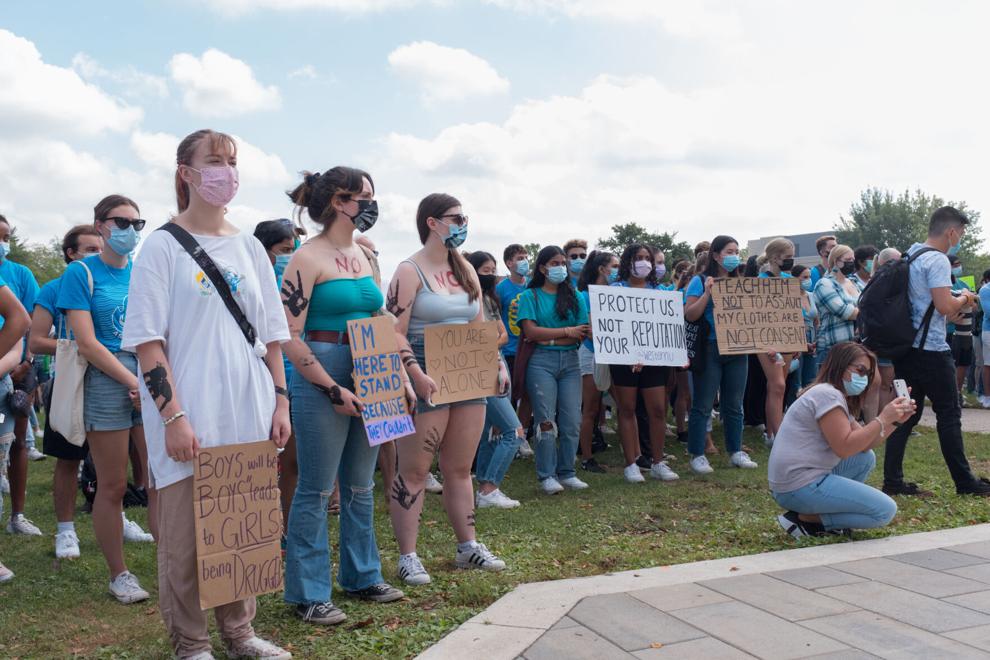 Content warning: The following article discusses instances of gender-based and sexual violence.
On Sept. 24, 2021, I wrote about the worst time in my life: my survivor story.
I was sexually assaulted just six weeks before the reports of gender-based violence began emerging from Western University's Medway-Sydenham Hall at the end of Orientation Week. I wrote my personal essay a few weeks later from a place of pure emotion and pain.
My assault, like most, did not make the news. It was quiet. It was in my student home. It was someone who I had known since I was a kid and trusted previously.
Now, I write this essay in a time of reflection. I can separate myself from the events of last fall. This does not mean I am completely recovered — I don't think I ever will be.
Often, the only times we talk about gender-based and sexual violence is when a major upset is reported by the media, like Western in September 2021 or #MeToo. It starts a roar on social media, with people saying "never again." But after a few weeks, it goes out like a flicker, and people move on.
But I didn't move on. I couldn't. I stayed right where I was as the world moved on around me.
It's still hard to read about the reports from last September. What's harder is to hear people say that it's better for the community if we don't talk about it anymore, or that it's better for survivors like myself to be protected from being triggered by this public discourse. I hate hearing that it's better for everyone — survivors included — to "move on" and keep the bureaucratic improvements behind closed doors.
Shielding people away from these stories, for the sake of survivors or otherwise, is not the way to address GBSV. The only way we can properly combat GBSV is through open communication and discourse — where survivors who feel comfortable sharing their stories can, and in an open forum where we can make concrete change.
GBSV affects all Canadians. According to Stats Canada, 44 per cent of all women in 2018 experienced some form of GBSV by an intimate partner in their lifetime. Almost two-thirds of all Canadians know a woman who has experienced abuse. Sexual assault is also the only violent crime in Canada which is not declining.
Our brains will block out trauma that is too overwhelming in an attempt to protect itself. We don't want to remember things that are too painful — parts of my assault are blocked out. Often, we forget about major traumatic events because we don't want to remember the pain that it inflicted on so many people.
I fear that's what might happen with September 2021 — that we forget and stop talking about it entirely because it dominated our discourse for the year, and people don't want to hear more about a painful event. Trauma is not a trend for people to hop on and hop off whenever they want.
Every time I see a story involving sexual violence — whether it be Ronan Farrow's Catch and Kill or Kyle Beach and the Chicago Blackhawks — I flash back to my time of powerlessness. I take longer to process these stories, because I see glimpses of myself in them.
I know these stories aren't easily digestible, and there are some survivors who never want to be reminded of their past — which is completely valid. But I need to see these stories. I need to know that I am not alone, and that I am not a statistic. I want to acknowledge and see these people's stories because they matter and make my experience less isolating.
There's a definitive before and after of my life since my assault. Sometimes I get sad that pivotal people in my life, like my boyfriend, didn't know who I was before my assault. Sometimes I miss the person who I was.
Dec. 6 marks the 33rd anniversary of the École Polytechnique massacre — where a man shot and killed 14 women because they were in the school's Engineering program and he was not accepted.
My mom came to Western September 1990 — less than a year after the massacre. Just like me, my mom's university experience was clouded by gender-based violence.
I don't want my daughter to have her university experience clouded by GBSV like my mother and I did. The cycle needs to stop now.
In order to eradicate GBSV, we must talk about it and keep talking about it, even when it's hard or we don't want to. I am now reclaiming my agency, and I am not going quietly.
If you need support, Anova's crisis line is available 24/7 at 519-642-3000 and resources for Western University students can be found here.
Additional resources:
St. Joseph Sexual Assault and Domestic Violence Treatment Program