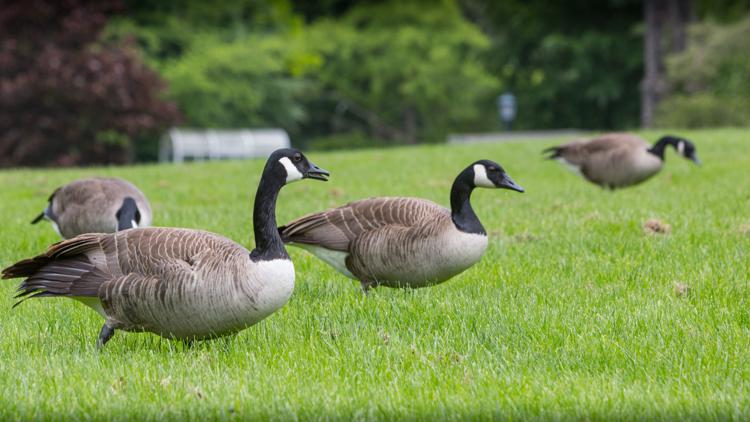 Canada Geese are an iconic part of Western. Their long, black necks and white cheeks dot University College Hill during the warmer months, and official Western University merch and social media feature them. Spending time with these big, feathered fellows is practically a Mustang rite of passage.
Unfortunately, people tend to sensationalize violent interactions with geese, creating stigma about these birds. We see stories of goose assaults reiterated again and again in local news coverage and on social media. But are Canada Geese truly the bloodthirsty creatures everyone characterizes them as, or are those perceptions just covering up a larger problem of disrespecting wild animals on campus?
London, and more specifically, Western, is a breeding ground for many migrating birds, including Canada Geese. The land Western occupies today has historically been an important habitat for geese, long before humans appropriated it. Geese migrate up to Canada from March to April after spending winter in warmer, southern areas. Western's campus is perfect real estate for geese to establish nests: it is close to the Thames River, flat enough to provide a clear view of approaching predators and there's plenty of food. Despite their vicious reputation, geese are herbivores and chow down on grass and other plants around campus. They contribute to maintaining the campus's lawns and gardens, along with providing free fertilizer.
Canada Geese mate for life and meet up with their better half at their breeding grounds in the spring. Much like Western's student couples eagerly reuniting after winter break, springtime reunions are happy occasions for geese that bring about displays of honking affection. Geese return to the same breeding ground annually and live between 10 to 24 years, so you probably see familiar beaks on campus every year without knowing it.
Despite my steadfast adoration for the big birds, we must remember that Canada Geese are territorial and they can be aggressive while protecting their territory. Male Canada geese are generally the ones that defend the territory, and their displays are hard to ignore. Most students at Western have heard the hissing, but geese also bob their heads and may lunge as a warning signal. However, the stereotype that geese behave this way because they are "mean" or "evil" has got to go. With these behaviours, geese are telling you to get out of their space because they are trying to protect their babies. If you see a Canada Goose making its warning display, you are probably near a nest and should get out of the way.
The bottom line is that students need to be more respectful of the geese on campus. The people who get attacked are often the same individuals who mean-spiritedly run at geese to scare them, or who don't pay attention to obvious warning displays. This conduct is unacceptable, for both the geese and for those of us who care about protecting animals that occupy our urban spaces.  
As the largest birds on campus, Canada Geese are easy to spot. But Canada Geese are far from the only wild birds that call Western home. For some birds, the university grounds provide valuable year-round habitat. For others, the campus is an important stopover site on their long migratory journeys, as well as a breeding site for bird species like chimney swifts and barn swallows, which are both threatened by habitat loss.
Instead of overemphasizing violent interactions with geese, why not try birding around campus to fully experience Western's local wildlife?
— Lydia Balogh, third-year student, biology and English language and literature