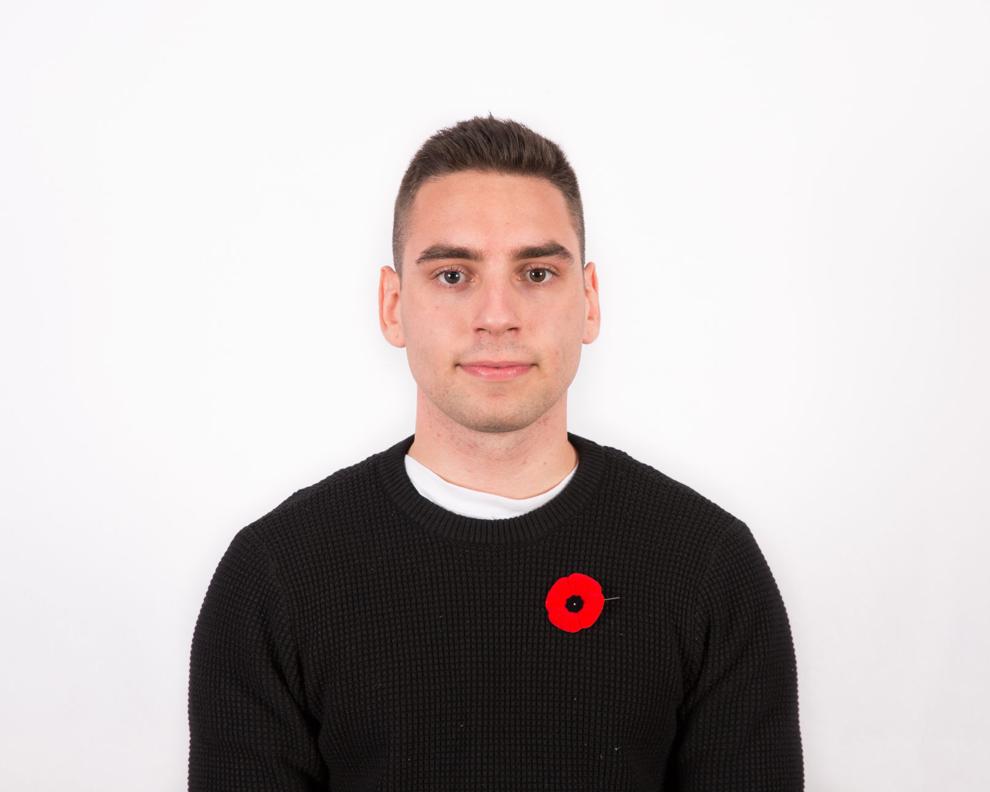 Remembrance Day is fast approaching, which means poppies can be found just about everywhere on campus. Students drop loonies and toonies into a donation box, grab a red and black velvet poppy and pin it on, often to the left side of their chests, directly above their hearts.
It's a small but recognizable way to honour and thank the troops who have fought and, far too often, died during wartime conflicts.
Whether they were at Vimy Ridge or Passchendaele during the First World War, or in present-day Mali — considered the most dangerous UN mission in the world — the poppy is one way for people far away from the crossfire to commemorate those who lose their lives on the battlefield.  
While many students may don the red poppy, it's important they know the meaning behind the symbolic flower and the funding it provides to our veterans. And, of course, it's important that they recognize the distilled animosity some Canadians feel towards the bright flower. 
Early in the First World War, soldiers noticed that blankets of red poppies were the first signs of life to appear on the war-torn battlefields. Burying a close friend and comrade on May 2, 1915, Canadian doctor and lieutenant-colonel John McCrae noticed that the flowers were pushing through the freshly dug graves. In a creative outburst, he wrote the poem that associated poppies with peace: In Flanders Fields. His writing sparked the international use of poppies as a symbol of remembrance.
The poppy also has charitable value, since the donations received by the Royal Canadian Legion go directly to veterans, supporting them with meals, transportation and accessibility items, ultimately enhancing their quality of life.
However, there has been rising opposition to the poppy in recent years, with some concerned that it is a symbol of war glorification. To some, this might seem offensive to veterans and military families.
Laura Kaminker, an NDP candidate who recently ran for a position as Mississauga Centre's MPP, stated in a 2014 blog post that she views Remembrance Day poppies as "collective brainwashing" and that they represent a "ritual of war glorification." In addition, on Oct. 12, the Cambridge University Students' Union came under fire after members rejected a call to celebrate Remembrance Day. 
Imagine living in the moment when the Second World War was first announced; it must have been a horrific experience for those who had already experienced the conflict of the First World War. Imagine previously fighting for your country, unsure of whether or not you would make it home, and then experiencing opposition to something as simple as remembrance.
Of course, Canadians can choose whether or not to wear the red poppy. Wearing it is a voluntary gesture; if everyone is pressured into wearing one, its meaning is lost behind an act of obedience instead of remembrance. But the choice should be an educated one.
Politicians like Kaminker use poppies — and the veterans they represent — as a political talking point. In reality, the poppy represents more than "collective brainwashing." It represents a rich history often forgotten or ignored by Canadians. According to Veterans Affairs Canada, during the First World War, approximately 66,000 soldiers died; in the Second World War, another approximately 47,000 died; and since 1947,  hundreds more have given their lives for our country — including those involved in peacekeeping missions, foreign military operations and domestic operations.
We don't remember these soldiers as motivated by bold jingoism or a desire to conquest. They were, and still are, motivated by a desire to better our world. They sacrificed for their communities and families, not in the hopes that some politicians would refuse to acknowledge their efforts. 
When the vast majority of students wear the poppy pin in November, they don't do it to celebrate dominance in war, but to remember lost lives. When reciting McCrae's heartfelt poem, specifically, "Take up our quarrel with the foe," middle school students never say it with motivation to war against conflicting ideologies; they only mean to commemorate the fallen.
Wearing a poppy doesn't mean you support past or present conflict. It's simply a gesture to remember and appreciate those who have sacrificed their lives on the battlefront so we can enjoy peace and freedom.
Update (11:24 a.m., November 6th): the article was updated in paragraph eleven to clarify the number of dead in World War Two.