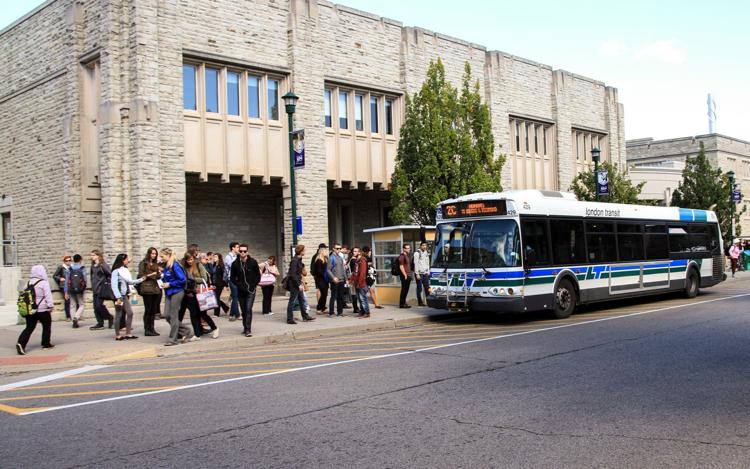 Western students are getting kicked while we're down — as students are paying full tuition costs for "Zoom University," thousands are also losing their bus pass after choosing online courses.
The University Students' Council announced on Sunday that students enrolled in online-only classes won't pay for or get the USC-discounted bus pass for the 2020-21 academic year, regardless of whether they will be living in London or have non-academic commitments on campus. 
Buses are vital to student life in London, and not just to get to campus — they provide access to grocery stores, train stations and part-time jobs. There are some places we need to get that are just impractical to walk or bike to and paying up to $6 to take the bus both ways can become expensive very quickly.
Many students — myself included — signed our off-campus leases months ago with the expectation that we would have access to the London Transit Commission buses whenever we needed. I still have to pay rent, but with this new contract, I have no way to get where I need to go.
Even in a pandemic, academics aren't the only reason students need to get to campus. Some are employed by Western University in places like The Book Store or are varsity athletes with mandatory on-campus training — and they will have no affordable way to reach the school if they live downtown. Shelling out $82 a month for an LTC bus pass isn't a viable option for many student budgets.
Right now, full-time students, regardless of whether their courses are online, are paying for the Western Student Recreation Centre, the Wave and The Spoke. We're paying for all these on-campus experiences that we now have no access to. It feels like council expects us to not use these in-person services — so why are we being asked to pay for them? 
In contrast, the Brock University Students' Union is reducing their bus pass fee by 50 per cent, while still granting full access to the St. Catharines Transit system. Even though it's a different municipality, clearly other options could have been put on the table — so what gives?
The USC should have at least surveyed students about whether they were staying on campus. That way, they could have more precise numbers to negotiate with the LTC, instead of making uniformed assumptions about student needs and hanging us out to dry.
The blame doesn't entirely fall on the USC though. The LTC shouldn't have been greedy with student money in the first place. Council initially pushed for an opt-in system, but were rejected by the transit commission. And considering Canadian public transit systems have lost nearly $400-million since the start of the coronavirus — they need our ridership. But even so, the USC should have considered the best interests of the students in London, rather than fighting to give out-of-town students — who most likely aren't paying rent — a $200 break. 
No one could have predicted the pandemic. It's completely understandable that students are choosing to stay home — housing isn't cheap, especially if they hadn't signed a lease. But students shouldn't be penalized for staying in London and taking the bus — we need it now more than ever.