It seems as though everyone has fallen into a mob-fuelled dog-loving shtick.
Loving dogs has become a necessity for social inclusion. Those who don't fawn over dogs — and even those who feel neutral towards them — are often seen as soulless, loveless monsters.
These furry creatures are infiltrating every facet of life; people bring their pet dogs everywhere, from home to lecture halls and even onto airplanes. 
As someone with a serious allergy to all animals, this makes things difficult on the day-to-day.
My symptoms range from sneezing and sniffling to serious life-threatening asthma attacks. I've had my eyes swell up until I can't open them with itchy hives covering half of my face, turning me into a scarier reincarnation of the Phantom of the Opera.
My issue is not with guide dogs or emotional support dogs; those are clearly needed and their legitimacy is not up for debate. My issue is with pets being welcomed onto campus with open arms simply because they're deemed cute.
Western University is dog-friendly. People bring their furry friends to campus often, whether it be in libraries or lecture halls. There is no formal policy about dogs on campus: Western's libraries simply require that dogs are "well-behaved" and leashed.
But the constant presence of even the most well-behaved dogs is unfair to students who feel either unsafe or unwell when  they are around. Even if a dog is on a leash, they can't be fully controlled by their owners; I've had leashed dogs lick me in the University Community Centre and, in turn, have suffered adverse reactions.
I currently have two classes with dogs in them: one dog belongs to a student and the other, to a TA. While I do not think these dogs are particularly malicious, they're not particularly conducive to learning either.
Lately, "safe spaces" are often discussed in relationship to university classrooms. The idea is that some controversial topics and extreme viewpoints don't belong on campus because they can make students feel unsafe or uncomfortable.
Of course, student safety and comfort should be a priority for universities. But this should apply to physical comfort as well as emotional. Because for people with allergies, a dislike of dogs is serious; it can be a debilitating and life-threatening condition. While dogs in the UCC atrium or puppies in lecture halls might offer emotional support for some students, they can bring physical discomfort to others.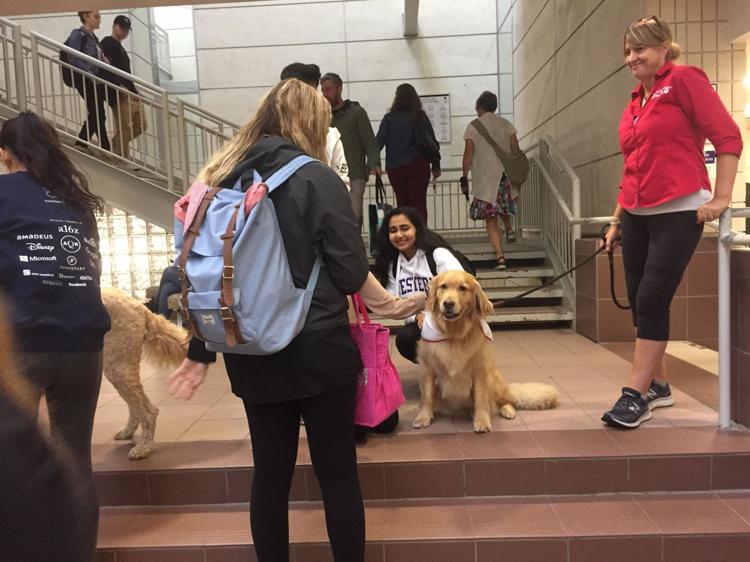 There's no getting around how debilitating a dog's presence is for me when I'm on campus. Allergy medication makes me feel drowsy to the point where I can't keep my eyes open, while the effects of my allergies harm my ability to learn and take notes. Allergy attacks are both mentally and physically consuming; my hands are occupied with tissues as I blow my nose and I struggle to see as my eyes water and itch. Rather than concentrating on taking lecture notes, I'm concentrating on trying to breathe.
There's no winning here. I'm forced to decide between suffering through allergy symptoms or taking a mid-lecture Benadryl-induced coma.
I recognize that dogs can be a source of joy. However, for me they're mostly a source of pain.
Whenever I walk into the UCC or a lecture hall and there's a dog there, waiting for me, I feel like I'm getting punched in the face. They might not mean to cause me harm or impede my learning but yikes, do they ever. The simple tasks of day-to-day life suddenly become difficult, dangerous and painful.
So, no, I don't hate dogs. But I don't necessarily want them around me — especially when I'm trying to learn.