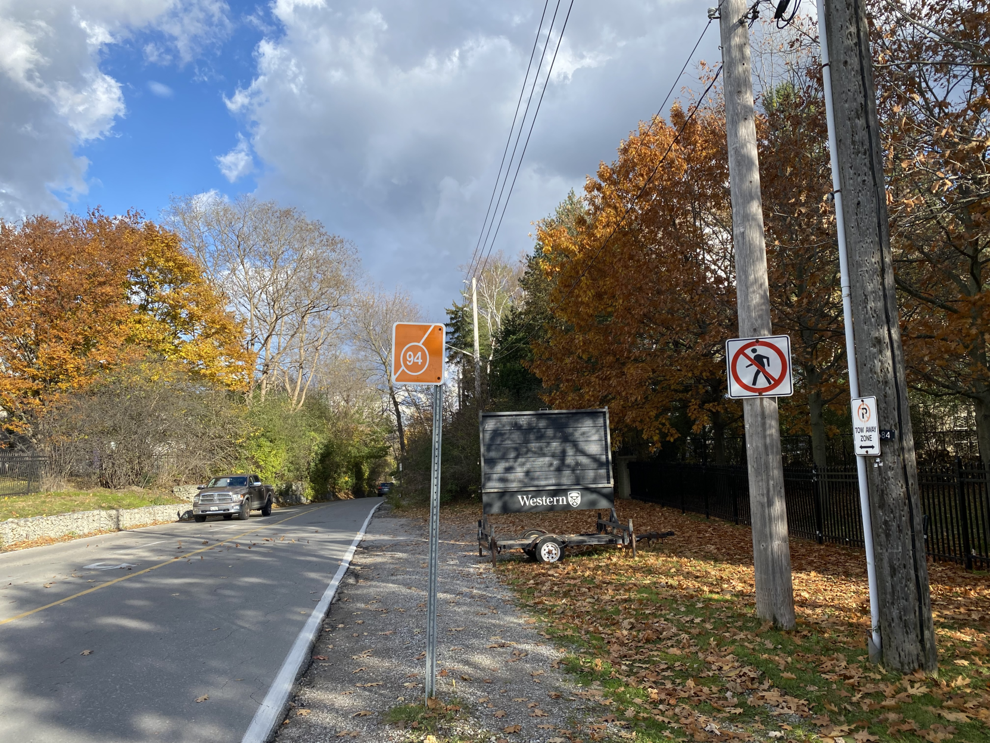 Amid conversations around campus safety, pedestrian safety has been largely ignored. And nowhere is this indifference more clear than on Western campus' Philip Aziz Avenue.  
Named after a prominent local artist who once resided there, Philip Aziz Avenue is a narrow strip of road located between Western University's Student Recreation Centre and Essex Hall. It connects the intersection of Western Road and Sarnia Road to Huron Drive.
Even if you've never heard of the street, you've surely encountered it. Whether you've driven down the precariously narrow strip or mistakenly tried to trek it, cursing it is practically a right of passage at Western. 
As someone who grew up in northwest London and drove down Philip Aziz Avenue to get to high school everyday, I can say the "no pedestrians allowed" sign does not work.
I've shimmied my car through the two-lane road, struggling to avoid the retaining wall and bordering plants. And on more than one occasion, I've had to avoid pedestrians who have gone  past the end of the gravel sidewalk — if you can even call it that. The paved sidewalk should continue down the Avenue to allow students a safe and convenient way to get to Huron Drive.  
While pedestrian pathways from Western Road to Huron Drive exist, they're out of the way of mainstream walkways.
The longest path circles well past London Hall, down steep steps and runs adjacent to Alumni Field and Alumni Stadium, leading pedestrians towards the Stadium parking lot — exactly where they'd end up if they could walk down Philip Aziz Avenue. 
The second pathway cuts through the Recreation Centre — walkers enter the Centre and exit down lofty steps to access the Philip Aziz Avenue sidewalk that emerges at the end of the Avenue, across from the Stadium parking lot. 
The third pathway is accessible by the main entrance of the Recreation Centre and leads pedestrians to the Huron Drive parking lot. But yet again, there's a set of near-vertical stairs. 
And these conditions are even worse under bad weather.
What's worse is that the sign prohibiting pedestrians from trekking down the Avenue is much too high for pedestrians to notice and is more appropriately placed for vehicles. It's also placed near a bus stop — exactly where pedestrians should be. 
If student safety is a concern, making main routes accessible to pedestrians should be top priority.